The RC hobby is not dying or going away!
Well I must say it saddens me to hearing people say the hobby is dying or going away. This year marks the 31st year I have been in the hobby. I am a 3rd generation RC pilot and I plan to make my son Logan or daughter Hailey the 4th generation! The hobby is what you make it. I don't see how it is dying. People don't know how lucky they are to be flying the models and technology we have today. I remember when I was flying helicopters with tail gyros (a real gyro ball that spun in a box) and helicopters with no CCPM mixing. Hell when my father taught me to fly in the 80s there was no buddy box or simulator. He would put his hands over mine and take over if I got in trouble. My flight simulator has always been to get out and fly! Yes crashing sucks but it makes you a better pilot and mechanic in the end no matter how Frustrating it can be.Over the past 3 decades I have been lucky enough to see huge advancements in model aircraft and electronic technology. Technology keeps going up and starting entry prices for the consumer keeps coming down. Heck you can get a 230 size Ready-To-Fly helicopter for under $200 with SAFE Technology. In the 90s that couldn't even buy you a radio system. Season after season I continue to buy, fly, test, review, share and sell my models to try the next latest and greatest and keep other guys in the hobby.I took over as Contest Director for our Northeast Model Helicopter Jamboree 3 years ago. This year will mark our 15th year doing the event. Yes the past few seasons I have seen lower numbers but people leave the hobby for many reasons. Money, illness, new hobbies, family etc... That doesn't mean the hobby is dying! I have a few diehards who come out to our event (never missed a show) and still fly older flybar Nitro models that are hard to get parts for. Tell them the hobby is dying and they will laugh at you with a big goofy grin on their face and think you are the crazy one.Make the hobby what you want it to be. As long as You are still buying fuel, batteries and have the will to play and FLY the hobby isn't going to die for you. I get asked all the time if I get bored or tired of the build reviews I do or the help I give out to people or flying RC in general. Absolutely Not! This is more than a hobby for me, it is a passion I've had since I was 6 years old. It doesn't matter if some companies close down, friends move away or guys come and go from one aspect of the RC hobby to another. RC will be around Forever if you let it into your life.Make the hobby your own and if you have the passion, the love and dedication I have for the hobby that will transmit to others in the hobby and keep it alive. My Papa turned 92 years old this year and having him stand next to my father and I as I flew an airplane he gave to me that he built in the 80s is a memory I have been waiting over 30 years to make! As long as I can move the sticks on the radio the hobby is not leaving me or my family!RC Forever & God Bless our RC forefathers for giving us this wonderful hobby!The Cup is 1/2 Full, not half empty!
-Chris ReibertA day history was made!
Papa, myself, my son Logan and my father. 4 generations of RC pilots.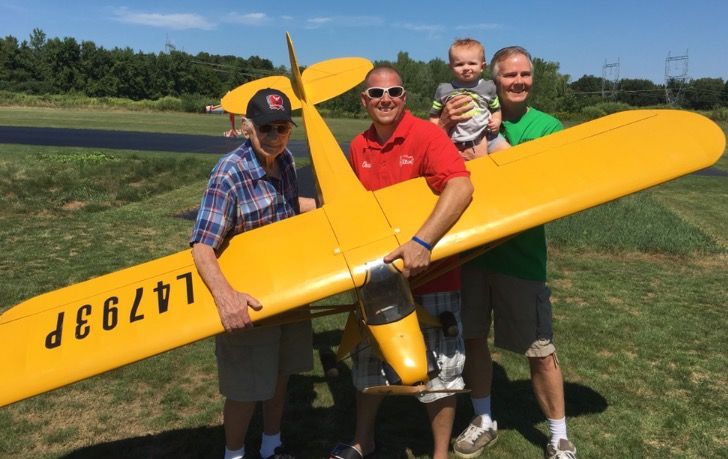 My daughter Hailey and I. She is my little flying buddy and Princess.
Hailey & Grandpa. My father who has guided me through life and made me the man I am today.
I only FLY on days that end in "Y"