My charger has a LiFe storage voltage of 3.3 volts. I bought a box from the factory and sure enough every cell was 3.30 volts. Unfortunately, if you select Storage from the menu when a battery is fully discharged, it puts a little back in and stops. If you select Storage for a fully charged pack, it only take out a little and stops. So Storage charge has no meaning.

Exactly! This is what a typical dishcarge curve for LiFePo4 looks like.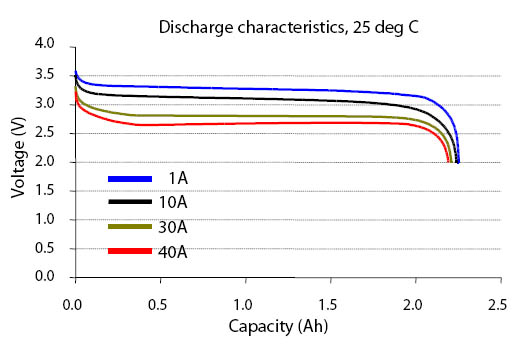 To those who think there is a storage voltage(even though the MFG says there is not, but I'll humor you) - tell me if you can find the exact 50% voltage point on that graph ... I cant... If you
could
you would need to measure it out to 4 decimal places or so.
PS. Do NOT plug them into a standard switch and charge jack without modification. Also I think there is a difference between LIFE and A123.
Let me guess - you bought packs that where wired to balance thought a servo lead, right? When you get them like that the white/yellow signal line is the balance tap and you need to cut that wire off on the RX side of the switch. That's a common practice (I do it) and your battery should have come with instructions indicating this.
-Jeremy
Whiplash-G
Helix 700G
T-Rex 450 fbl conversion
alot of planks