He escaped 'the beast' of Baltimore
By John Blake, CNN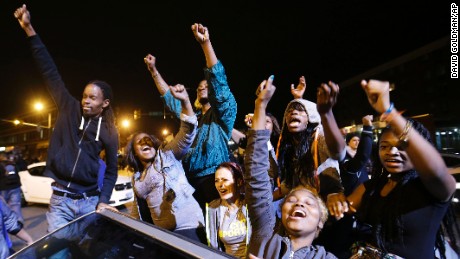 Updated 12:28 PM ET, Mon November 23, 2015
d watkins baltimore natpkg_00001012D. Watkins: 'Baltimore is a divided city' 02:09
Baltimore, Maryland (CNN)Dwight Watkins was visiting his aunt one spring day in Baltimore when he heard someone beat on her front door and frantically call out for him."Yo, your brother out there!"His brother was named Devin, but Watkins called him "Bip." Bip was 20, only three years older than Watkins, but he was more than an older brother. He was Watkins' protector and muse, someone who gave him copies of books about Malcolm X and Frederick Douglass and told him that he had a future beyond their impoverished neighborhood in Baltimore.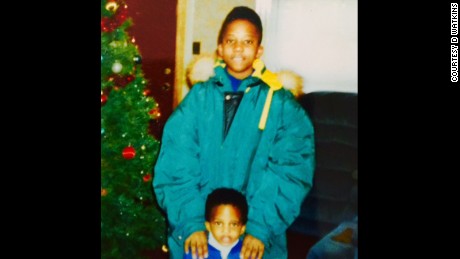 Dwight "D." Watkins and his older brother Devin, aka "Bip."
Dwight "D." Watkins and his older brother Devin, aka "Bip."
Watkins burst outside and noticed that a crowd had already gathered around a body. It was Bip. He had been shot and killed. Specks of blood dotted his white high-top basketball shoes. "He was out there on the ground -- I thought he was faking," Watkins says. Only days after Watkins had gotten his college acceptance letter, he had lost his hero."He was everything to me," Watkins says.In another time or place, Bip's death would have been forgotten. But the Baltimore community where Bip died is in the news again, and so is Watkins.On November 30, the first trial for one of six Baltimore City police officers charged in the death of Freddie Gray is scheduled to start. The six officers were arrested after Gray, a 25-year-old black man, died in police custody in April. Gray's death sparked protests and one of the worst urban riots since the 1960s.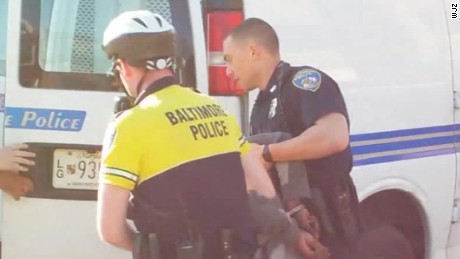 'I miss them all'
Since then, plenty of people have tried to explain why Baltimore erupted. Few, if any, offer Watkins' insider perspective. He is a native of "Bodymore, Murderland," as the city has been called, a 35-year-old man who went from being a squeegee boy and crack dealer to an author and college professor with three degrees. He writes under the name D. Watkins, and his first book, "The Beast Side: Living (and Dying) While Black in America," offers a take on race relations that has been praised by everyone from David Simon, creator of HBO's "The Wire," to Chuck Todd, host of "Meet the Press."'Lord of the Flies' comes to Baltimore
Baltimore violence and the lack of black men in the city
Watkins' life is a supreme example of a character's "transformative arc," a term he likes to use in his writing classes. On the morning he met with CNN, he had finished an interview with Terry Gross, host of NPR's "Fresh Air." Yet his subdued mood seemed to match the weather. It was a wet, rainy morning in Baltimore's Druid Hill Park, and Watkins turned reflective as he leaned his 6-foot-2 frame against a park gazebo to talk about his past."I know so many people that just lost their lives over nonsense," he says. "And you know they never got a chance to do simple things like get on an airplane. Some of my best friends were murdered while they were still virgins going through puberty. So many grandmas buried. So many sons and daughters. I just, I miss them all."Watkins' subject matter might be grim, but his book doesn't read that way. It's playful, profane and darkly funny -- as if you're eavesdropping on a conversation in a black barbershop. It's filled with characters with names like "Pooh-Bear" and "Bucket-Head," friends drinking Hennessy from plastic cups, and grandmotherly figures who become surrogate moms to young men in their neighborhood.Broke drug dealers
"The Beast Side" also attacks a lot of the clichés that have accumulated around inner-city black life. Take the ubiquitous drug dealer -- it's a glamorous life with wads of cash, cars and women, right?D. Watkins went from being a crack dealer to an author and professor.
D. Watkins went from being a crack dealer to an author and professor.
"Most dealers are broke and can't afford child support and barely have enough to pay their Sprint bill," Watkins writes in one essay. ''The truth is that crack is almost as obsolete as typewriters and that no one is making millions off of it except the artists who get checks from singing about it."And what about those lazy inner-city blacks who don't want to work, the kind conservative talk radio loves to evoke?In a Salon essay titled "Poor black people don't work? Lessons of a former dope dealer," Watkins writes that the spirit of capitalism thrives in inner-city black America:"I can travel through east Baltimore or any urban inner city (BLACK) neighborhood for under 10 minutes and introduce you to the hardest-working Americans in our country. I know a guy that guts houses for $50 a day, a rack of uncertified tax preparers, too many single moms with triple jobs, some freelance freelancers, infinite party promoters, squeegee kids, basement caterers, back-alley auto mechanics, dudes of all ages selling bottled water and a collection of Mr. Fix Its, all living in a two-block radius. We are all American dream chasing, all trying to start our own business, all working our asses off."Watkins had the same dreams of making money. It's why he started dealing crack and heroin as a teenager. His older brother gave him books like "The Autobiography of Malcolm X" and "Manchild in the Promised Land," but Watkins wasn't much of a reader as a kid."Some of the books that I was given when I was growing up and talking about in school -- like 'Gifted Hands' by [neurosurgeon and presidential candidate] Ben Carson -- I didn't see myself in that," he says.Freddie Gray: Trial dates set for officers
Freddie Gray: Trial dates set for officers
He saw himself as a natural entrepreneur, and he was: He eventually earned enough money dealing drugs to buy a $600,000 house with a wine cellar. At night, he would count so much cash that his hands would cramp.Then he started to count the other costs. By the time he was in high school, he estimated he had survived being murdered on 15 occasions. He decided to stop."All of my friends were dying and going to prison," he says. "Simple reason. You know, hanging out with a group of guys one summer. And the next summer, you got a new set of friends. The next summer, you got the next set of friends. It's only a matter of time before it becomes you."Rise of the 'Go-To Negro'
Today Watkins wryly notes that he has a new vocation: He's the "Go-To Negro" for explaining black culture. Journalists, civic groups and schools contact him to speak about race relations. Expect to see more of him as the Baltimore trials hit the news and journalists seek insights on the city.He has already established a public persona. In pictures attached to columns he writes for Salon, the Guardian and other publications, he's often dressed in black jeans, tennis shoes and a knit cap, looking forlornly into the distance. He doesn't look like a college professor; he looks like an extra from "The Wire."There are already hints he wants to break out of that persona. He talks passionately about the storytellers he admires (authors Richard Price and Sherman Alexie; the rapper Nas) and how he spends 14-hour days in coffee houses whittling big themes like institutional racism into accessible stories that a teenager could read."I've opened coffee houses up and I've shut them down," he says.Yet it's the drug war stories people really like to hear. He praises the interviewing skills of NPR's Gross but says he wanted to talk about other ideas in his book during their interview.Inside the mind of a black Baltimore cop
Inside the mind of a black Baltimore cop
"She was like interested in all these other things like how to run a dope strip and I'm like, 'I'm trying to switch careers Terry,'" Watkins says, laughing.Does he ever worry he'll go back to that life?"Hell no. Hell no," he says. "Those were some sad years. There's nothing attractive about it. I don't miss those years at all."Watkins' book may be responsible for some of the singular focus on his drug past. Consider its cover design, with the title and author's name in blood red letters on black, and his name and the subtitle inside a white chalk outline of a gun. Two white concentric circles turn the "t" in "Beast" into crosshairs.Is his book reinforcing the stereotype about inherently animalistic black men, even as he goes around lecturing about the evils of that image?Watkins says he's just a "street reporter" describing reality."I'm from the Beast Side of Baltimore and you literally have to be a beast to make it through," he says. "Not a beast in the derogatory, animalistic type of way, but a beast like a person who is going to go up against all types of odds and circumstances."Watkins actually mutes details from his past, one friend says."There's a lot of things he did that he can't speak on because there are certain codes on the street," says Darnell Baylor, who has known Watkins since childhood and still lives in the neighborhood, working in a psychiatric rehab program. "You can't even bring up certain things because there were certain rules we were raised by. He can't even say certain names."Losing Bip
One name, though, that he doesn't mind bringing up is that of his brother, Bip.They grew up in Baltimore during the 1980s in what Watkins calls the city's "crack, semiautomatic" era. They were born to a teenage mom; their father was in prison. The public schools were falling apart; so were job prospects for youth in their neighborhood. Bip drifted into dealing crack cocaine.He developed a fearsome reputation. Bip wore baggy pants and unlaced Timberland boots. When people saw Bip, they saw the embodiment of "the street," "the hood," says David Manigault, a Baltimore filmmaker and Watkins' childhood friend."Devin [Bip] was someone who they liked to say of, 'He goes hard,' '' Manigault says. "Devon was not like Dwight at all. But Dwight saw a different side of Devon than other people."Freddie Gray trials to stay in Baltimore, judge rules
Freddie Gray trials to stay in Baltimore, judge rules
Bip would regale his little brother with stories about Huey Newton and the Black Panther Party. He'd give him copies of books about young black men who were able to rise above their circumstances. He'd quote Frederick Douglass to him: "If there is no struggle, there is no progress.""He knew more than the average dude," Watkins says. "He used to read a bit. He never wanted me on the streets."Yet there was Bip on the streets, selling drugs to black people while teaching his younger brother about black leaders who lifted up their community.Was he a hypocrite? Nope, says Watkins, just human."Nobody is one thing," Watkins says. "Everybody is complex. A dude can be known as a revolutionary but get pedicures and lobster. People have layers."In the end, Bip was claimed by the crack wars of the 1980s. His shooting death shook Watkins, Manigault says."Dwight was inspired by Devin," Manigault says. "He was torn apart the way Devin passed away. It still stays with him today."'He was born into chaos'
Watkins found a way to make use of the books Bip had given him. After quitting the drug dealing business, he searched for a vocation. He enrolled at Loyola University Maryland but dropped out because he felt like he didn't fit in. Then he enrolled in the University of Baltimore, where he decided to take poetry as an elective so he could graduate.Kendra Kopelke, a teacher and poet, remembers when Watkins arrived in her class. He hardly said anything the first semester."He really watches the room," says Kopelke, author of "Hopper's Women." "You know he's thinking a lot more than he's saying."Kopelke finally heard what he had to say after assigning her class the task of writing a poem about their childhood. She told them it shouldn't rhyme. Watkins handed in a poem about his time as a squeegee kid trying to make $25 a day -- and his poem rhymed. The poem ended with one of Watkins' squeegee partners being hit by a car.Kopelke, who is the co-founder of Passager, a national literary journal, was struck by its originality and point of view."I read this and I thought, 'This is a story I've never heard before,'" she says. "I've been inside the car. My guess is that he was an adult when he was a kid."Watkins remembers that first poem from another perspective. He had to read it in front of the class."The class laughed at me," he says. "It was really, really, really bad. And I don't like being laughed at. I'm supercompetitive."D. Watkins in earlier days.
D. Watkins in earlier days.
Watkins applied the hustle he learned on the streets to writing. He started reading obsessively and writing articles, editorials, screenplays and novels. He got a literary agent. Watkins' memoir, "Cook Up," is set for release next year.He eventually earned three college degrees, including a master's in fine arts in creative writing from the University of Baltimore. He wrote about his brother Bip for his thesis."His brother was his protector," says Kopelke, who became Watkins' academic adviser and read his thesis. "His brother was the one who made him go to school.""I think Dwight still hears his brother's voice."Watkins is now trying to be that mentor figure to other young black men. He lectures at libraries and conducts writing workshops, has mentored students at a Boys to Men program in Baltimore and sends students with potential to Kopelke's writing classes."He was born into chaos and he's a survivor, but he had his brother," Kopelke says. "I think you need one person who really believes in you, and then you can make it."Near the end of his interview with CNN, Watkins tells us we would have enjoyed meeting Bip."He was a smart, cool guy, a nice guy," Watkins says. "A great person. A hero, you know."When asked what Bip would think of what he made of his life, Watkins paused."I wonder what he would say," Watkins says. "I think he would be proud."Watkins never saw his brother rise from the streets where he fell years ago. But whenever Watkins writes a story about his people that reaches someone or inspires a kid he's mentoring, the beast of Baltimore is beaten back, at least for a moment.And in some small way, Bip lives again.
I was waiting on some honey but there aren't no Queen bee,