Need to thin my fleet a little bit, so these two are up for sale. Both fly well, the 550X is really good. But alas, I need to scale back a little bit as school is coming up in a couple of months.
500 3D/X
This started life as a Blade 500 3D bnf basic. I upgraded it to FBL using all the blade parts. Comes with the original flybar parts as well, and the original H210 tail gyro if you really want it. ESC currently has a T-plug on it.
H310/H410 servos (the 500X servos, not the ones from the 500 3D)
Align blades
Fusuno Jolly Bee canopy
YEP 80A esc set in gov store
Castle 10A BEC.
Robird G31 gyro
Aluminum canopy mounts
Asking
$350
obo shipped, add
$125
for (3) Glacier 3300mah 6S packs that just barely fit under the canopy.
550X Sold pending funds.
This is the 550X combo with Castle Edge 120HV, AR7200BX FBL, servos, BEC, blades, etc. It's currently setup as 12S, but only needs the motor changed to go back to 6S. Power hungry either way. Currently has an EC5 on the esc, with a harness to adapt to T-plug for 12S, harness has an EC3 wired off to the BEC. Also includes the stock motor 1320kv motor, and all stock parts that were removed. Stock canopy is still in the plastic.
It has the following upgrades:
Lynx skids
Lynx mod 1 main gear, pinions for both 6S and 12S setups
Lynx canopy stand offs
Lynx tail pitch lever
3D printed esc mount
Fusuno tropic thunder canopy
Savox 5055 550kv 600 pro spec motor
KBDD 96mm tail blades (stocks included)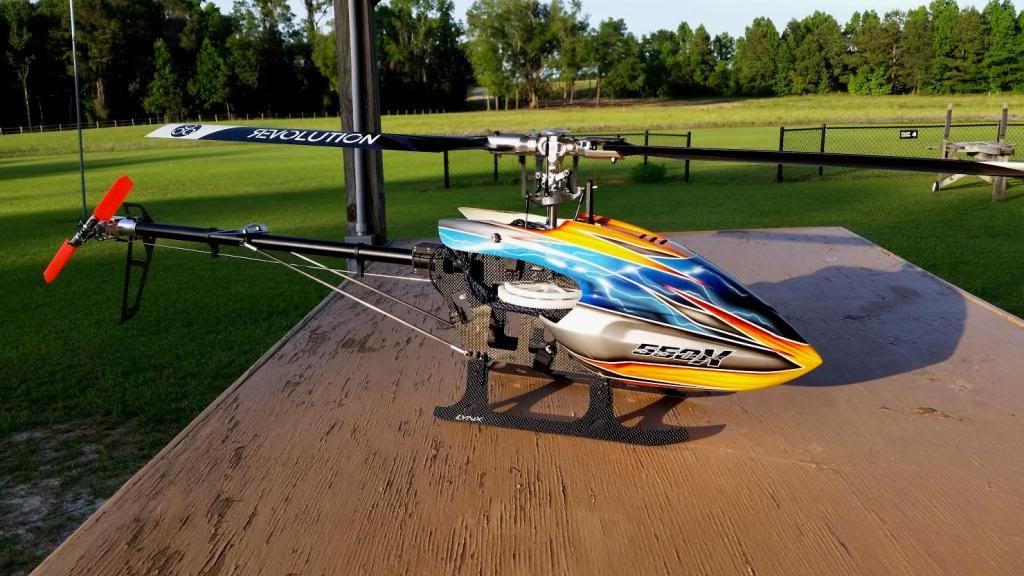 Asking
SPF
shipped with everything. Or
SPF
shipped with (4) Glacier 2600 6S packs all set to fly on 12S. Currently flies great on stock dampeners, but I also have Lynx ultra dampeners in the bag.Prices are shipped in CONUS, paypal preferred. PM any questions or offers. If batteries don't sell with helis, I'll sell them at that point, not before.
Thanks!