albatross
rrApprentice
Texas, Houston area
Homeland Security to Purchase 25 Million Shotgun Rounds

http://www.infowars.com/homeland-se...shotgun-rounds/DHS likely gearing up for mass panic in America with perpetual ammo purchasesKit Daniels
Infowars.com
April 22, 2014Yesterday the Department of Homeland Security announced that it is seeking an ammunition dealer who can provide 25 million shotgun rounds to the agency over a five year period, adding to its already enormous arsenal of ammo.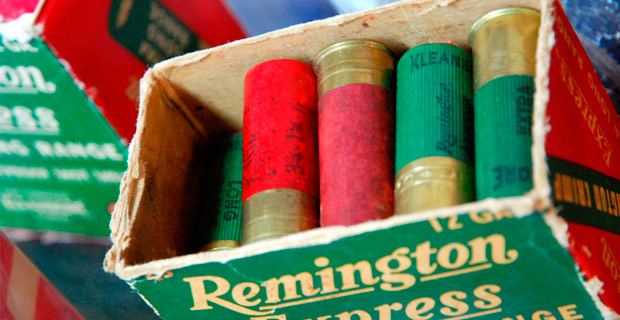 The solicitation posted on FBO.gov states that U.S. Customs and Border Protection, a department under DHS, is seeking "shotgun ammunition for use by all applicable agencies in the Department of Homeland Security," more specifically three million rounds of shotgun slugs per year and two million rounds of buckshot per year for five years."The ammunition will be used as appropriate at all Department of Homeland Security (DHS or department) component locations nationwide and outside the CONUS [continental United States,]" the notice reads.This is an excessive amount that not only reveals the vast scope of the emerging police state but also fuels fears that DHS is preparing for large-scale mass panic in America.And as we've exhaustively documented in the past, mass ammunition purchases by DHS are becoming quite common.Earlier this year, Homeland Security stockpiled over 141,000 rounds of .308 Winchester ammunition, a rifle round well-known for its consistency in long-range shooting.The agency requested 168 grain rounds in particular, which have an effective range of 800 to 900 yards.And last year, DHS released a market survey asking companies if they were able to provide two million rounds of ammunition under short notice.The survey also asked companies for both their capabilities in producing "large quantity orders of any training caliber specified" within two months and what their lead time would be for a single order of two million rounds.It has been estimated that over the past couple of years, DHS ammunition purchases have totaled over 2.5 billion rounds, with much of the ammunition being hollow point rounds known for their effectiveness at stopping human targets.DHS also spent $80 million on armed guards to protect government facilities in New York last year and even sought more guards for federal buildings in Minnesota and Wisconsin.More recently, the agency spent over $58 million for security details for two Social Security offices in Maryland.But that's not all. Back in March DHS began taking delivery of hundreds and perhaps even thousands of recently retrofitted Mine-Resistant Ambush Protected Vehicles (MRAP) once used in Iraq and Afghanistan but now destined to roam the streets of America.While these expenditures reveal that DHS is gearing up for civil unrest, the bulk ammunition purchases in particular are also exacerbating current ammunition shortages across America in what can be described as back-door gun control.And it isn't just DHS making large-scale ammunition purchases.Last February, the United States Postal Service announced it was seeking "proposals for assorted small arms ammunition." After intense scrutiny, USPS later claimed that the mass purchases were for its Postal Police.But there is a massive arms build-up by just about every federal agency in existence. Even the U.S. Dept. of Education has been stockpiling firearms and ammunition since at least 2001.Considering how well-armed Bureau of Land Management agents were during the recent standoff at Bundy Ranch, the increased militarization of government agencies is frightening indeed.H/T: Rick Wells, gopthedailydose.comNote: Despite the overwhelming evidence that DHS and other federal agencies are clearly engaged in a massive arms build-up, with billions of rounds, armored vehicles and cutting-edge weaponry, the mainstream media has continued to either outright deny or downplay what is going on. For example, in an article entitled Homeland Security's Ammunition Purchases Should Not Worry You, the Military Times claimed that the ammo build-up was not excessive. The article also suggested that having 100,000 DHS armed agents in America, which is a de facto standing army, was not a bad thing. Other media outlets, such as Media Matters and Raw Story, have also made similar statements. Yet it is becoming crystal clear what is happening in America as these articles below present a glaring trend:- DHS Purchases 21.6 Million More Rounds of Ammunition
- DHS Seeks Millions More Rounds of Ammunition
- DHS Contractor Apologizes For Selling Shooting Targets of Children
- Homeland Security to Purchase 141,000 Rounds of Sniper Ammo
- DHS To Buy 360,000 More Rounds of Hollow Point Ammunition
- GAO Now Investigating DHS Ammo Purchases
- DHS Ammo Hoarding Chronicled
- DHS Purchases 200 Million More Rounds of Ammunition
- DHS Classifies New Ammo Purchases Following Controversy
- DHS To Purchase Another 750 Million Rounds Of Ammo
- ATK producing ammo for Homeland Security (450 Million Rounds)
- Latest Homeland Security Armored Vehicle
- Feds' explanation of hollow point bullets raises more questions
- Media Portrays DHS Ammo Purchases as Conspiracy Theory
- DHS Buys 200,000 More Rounds of Ammunition
- Obama DHS Purchases 2,700 Light-Armored Tanks to Go With Their 1.6 Billion Bullet Stockpile
- Retired Army Captain Warns DHS Acquisitions are 'bold threat of war' Against the American People
- Homeland Security Snipers Terrorize Confused Residents During Raid
...my handle backwards is how I feel about current world affairs...