albatross
rrApprentice
Texas, Houston area
"Best Place to Raise a Family" to be Rattled by Gunfire and Military Helicopters

Kurt Nimmo
Infowars.com
April 23, 2013The Tinley Park Mental Health Center site is surrounded by suburban neighborhoods.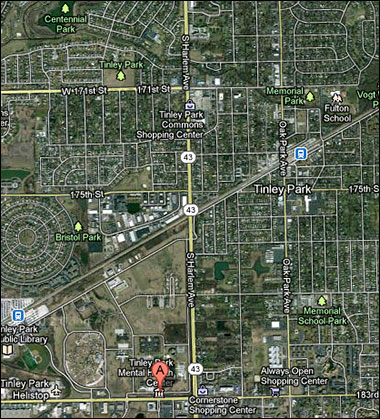 The Tinley Park Mental Health Center site is surrounded by suburban neighborhoods.The Pentagon has announced it will conduct an "urban training event" in the Chicago suburb of Tinley Park.Residents will be treated to "training explosives and other techniques" in the evening on April 23 and 24. In addition, the military, in collaboration with local public safety agencies, will hold helicopter operations in the night sky.The exercise will be held at the former Tinley Park Mental Health Center site. Authorities claim the site has nothing to do with recent events.Tinley Park is one of the fastest growing suburbs south of Chicago. In 2009, it was selected by BusinessWeek as the best place to raise a family in America."When training together, our local agencies and the DOD mutually benefit from shared knowledge and collaboration. Our goal is always to keep the American public safe at home and abroad," said Pat Carr, Director of the Village's Emergency Management and 911 Communications, according to a web page hosted by the Village of Tinley Park "At the same time, we want residents to be aware of the DOD's presence in the area so that they aren't alarmed when hearing a passing helicopter or other noise from the training area."In January, a similar exercise in Miami featured "machine gun fire, strafing runs, troops rappelling from choppers, and road blockades," Karen De Coster noted.A few days later in Houston, Texas, the DoD and other agencies took over a high school. Alarmed residents called police and complained about gunshots and helicopters. Two days later, a few miles away in Galveston, residents were frightened by noisy military maneuvers. Following complaints, KTRK-TV reported that "the Army and Houston police apologized for not giving advance warning of a joint training exercise."Military and police around the country now conduct urban combat drills and other paramilitary exercises without informing the public. Police and military officials often apologize in response to public outrage but continue to conduct the "scenarios" without informing the public.Tinley Park residents, however, may be inured to the war-like racket coming from the former Tinley Park Mental Health Center site. The "site has been used for training exercises for multiple agencies across the country, including Illinois State Police, the Cook County Sheriff's Office, the Chicago Police Department, the Federal Bureau of Investigation and the Department of Homeland Security, as well as the Village's public safety agencies," reports the Tinley Park website.This article was posted: Tuesday, April 23, 2013 at 4:13 pm
...my handle backwards is how I feel about current world affairs...