InvertedDude
rrVeteran
USA
Grey

Thank you, Thank you! I feel honored to show my 2nd Amendment arms that any tyrannical would surely feel scared!I am packing up the waldo with various arms, starting with this beautiful .380 SCCY.
It is usually hidden in my junk area. It packs a welp hurting on anyone that dare to hurt me! The fine ladies usually sent me compliments of my nice size package. (ladies call me!) The gun shoots reliable and hit 50 Y with accuracy!We will move on to a more sensible Glock 23 for CC and personal protection. It packs with .40 hollow of 13rds, usually banned in democrat strong holds. (shame on your liberals)
It is loaded with night sights and my marksmanship allows me to hit target at 100 Y dead end. Very accurate in my hands. (Boom HeadShots) Nothing like video game! (laughs like a foolz) Do you notice the mini knife? Nothing like yelling, "RAMBO MUTHFOCKAS".
Not really a fan of hand guns, but rifles are totally a different story!Here is this wonderful piece of machinery developed by Stoner for the Vietnam era, breed and forge under fire! Improvements over time has resulted turning the rifle into a reliable firing platform. I introduce you, America's fighting weapon! Ladies and Gents, I present you the all killing feared rifle that initiate 5.56 bullets at muzzle velocities at excess of 3k per second. This rifle have stunned Communists and Terrorists worldwide! America's ASSAULT RIFLE 15!People chanting.... AR, AR, AR!!!!!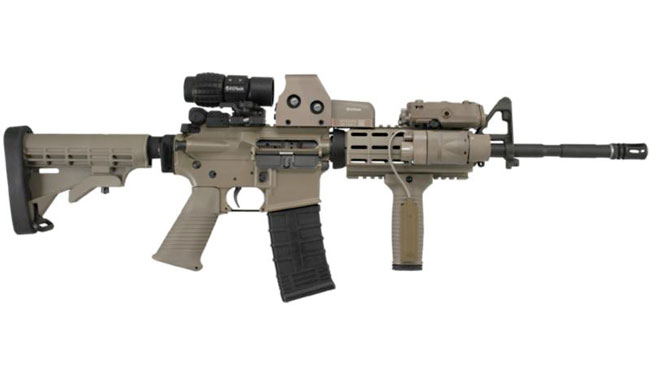 In my capable hands, I can hit target easily center mass at excess over 600 Yards! Need I say more fellas?! This rifle is to do it all! Hear the whistles of bullets passing through commies bodies! YEAH!!!!! FAIR GAME!There comes a limit of what my amazing AR15 can do! The physical limits of the 5.56 has it's limits. Ladies and Gents, I introduce you the next long range rifle platform. It is capable of disabling armor and helicopters. *drum rolls* I have the honor of introducing you......the aircraft shredder! The .50 BMPPPPPPPPP!!!!!! AS50!!!!!
Did anyone see that mellon EXPLODE at 1600 meters? *laughs like a maniac*!(Tone changes, on a serious note) If my amazing talents some how falls short and I am leaking blood. *coughs, coughs* Remember my fellow Americans! I don't want to do this, I love ya all. *wheezing*Fook it!*presses button* Button ignites soviet made nuclear warhead!
This results in this!
I get the last laugh!!!!!!!! HAHAHAHAHAAHAHAHAHAOn a serious note: The story above is intended to be a joke with GreyEagle. I do not own any of these weapons nor have any desire to do so. Don't be calling the FEDS or any AGENCY over this post. This post is not regarding to be any threat to anyone, once again a joke with GreyEagle speaking his language. America still honors the 1st Amendment and it is my freedom to do so. CALM DOWN!
The story is not to be taken serious!