The actual ESC is SJ Propo Hawk 120 but it is the same exact ESC as Fusion Hawk, Robbe Roxy, Megapower etc). Title says Fusion because it is the name majority are familiar with.
Works excellent with Vbar governor, super easy to program with the included programming box. Handles big powerful motors with ease. Battery leads are a bit shorter for best fitment and convenient connections in a Goblin. Those who think it is a copy of Hobbywing are wrong. It is not. Completely different layout, programming and features.Already has EC5 connectors with a jumper for 12S config.SJ PROPO 120A HAWK PROGAMMABLE BRUSHLESS OPTO ESC W/ FAN (4-12 CELL LIPO) SJ-HAWK120AHVFEATUERS :
Suitable for various applications including aircraft, boats, cars and helicopters
Fully proportional forward with on/off brake and reverse
Smooth throttle response
Perfectly compatible with inrunner or outrunner motors straight away.
Motor rotation direction can be set
LiPo, NiCd and NiMH battery compatible (14-36 cells for NC/NiMH & 4-12 cells for LiPo)
Selectable model type (air,heli,boat,car)
Variable airbrake (off / slow / normal / fast 5-100%)
Governor on / off (Heli only)
One way / two way (boat & car)
Automatically sets low-voltage cut-off based on input voltage
32 kHz switching frequency
Thermal cut-off
SPECIFICATIONS :
Load Current : 120A
Peak Load : 150A
Dimensions (mm) : 73.40 X 56.2 X 31
Weight : 166g
Super Programming System : YES
High Motor Frequency : 32 KHz
Power on Reset : YES
Cooling fan System : YES
Thermal Protection : YES
RX Filter : YES
BEC: NO OPTO ISOLATED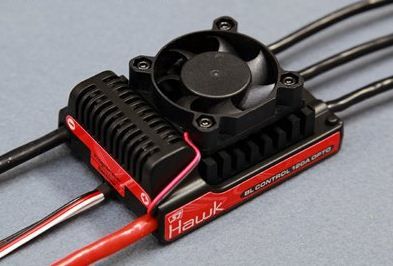 Price: $150 + shipping (estimated $10-$15 to US or Canada)I am long time member on Rccanada.ca and have some great feedback there is that is a concern. And also Helifreak