brettfavre
rrNovice
houston, tx
hardcore 3D 450 Pro/Outrage head swash and tail Futaba 401 & S9257 HS65MG metal Cyclic

For those who dont know - they say this OutRage head is better than Align.
There is all red sheathing on the servos heat sink sealed. Black sheathing on the throttle and gold on the gyro wires so you can tell them apart quickly when plugged in. The Align wire harness is included.
Look at that pretty Outrage head and swash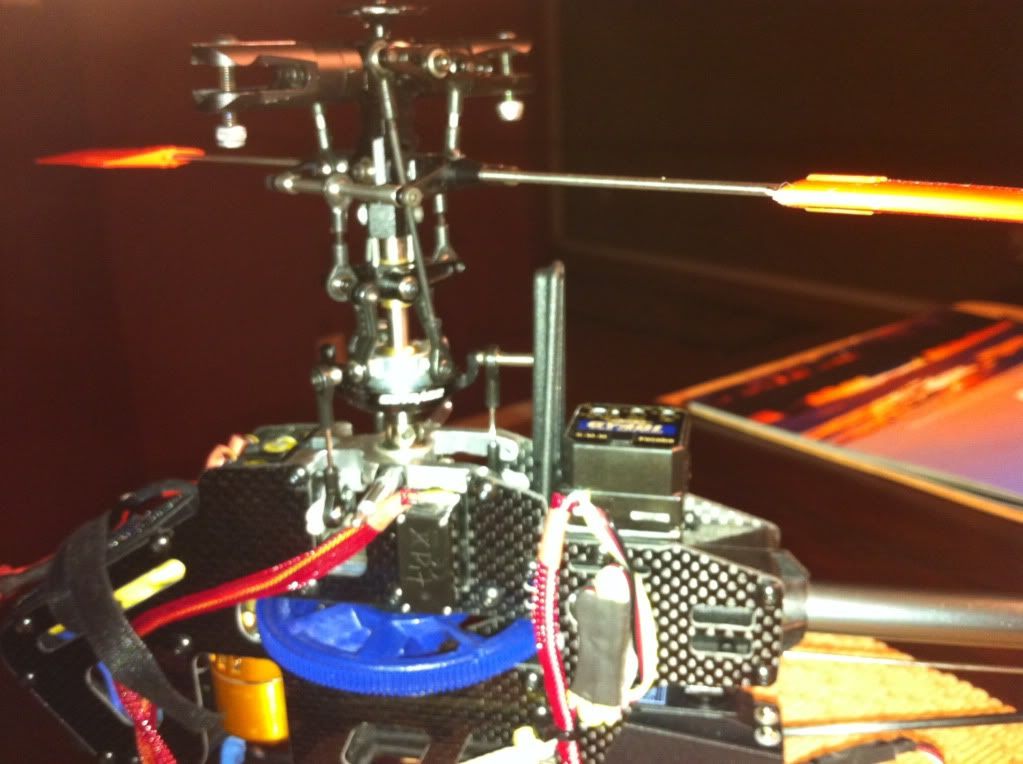 And that nice Futaba S9257 and GY401 combo
And the Outrage tail. Looks like Terminator mechanics
hardcore 3D 450 Pro with Outrage head swash and tailFutaba 401 50.00Futaba S9257 30.00HiTech HS65MG metal Cyclic servos 70.00nice motor and pentium esc with seperate 2A UBEC 50.00OutRage swash full OutRage head and full OutRage tail 90.00Outrage paddles 20.00Nice flex wire sheathing and heat sink all around 10.00Think the frame was originally HK not sure nothing left stock but frame with Align main gear and Align autorotation gear and Align boom, 450 pro CarbonF upgrade fin and stab. CF Tail blades. 49.00 without head and tail above.Align Main blades 12.00Comes with an extra Align plasti blade 315 and extra Outrage flybar cage, tail spindle and an Align main shaft.
I chipped the other plasti blade and dont have a match, so throwin it in. Chipped it when this heli tipped on the concrete patio bc I had aileron/pitch reversed.
Blade chipped -that is the only time any damage has been done. This heli has not been wrecked. The tail blades also got knicked but I have filled the edge in with epoxy and balanced. It flys great. I just have 3 and a 500 and really need some cash for Christmas so Im pricing this to sell fast.
This is the best 450 I have and TCB2557 can vouch it is a super sweet 450. I wanted to post something that would sell.
If it doesnt sell this week i will start parting out by the prices on parts above. If you add up those current competitive used heli prices and see that Im asking much less than that for the whole thing together, youll see it's a pretty good deal. This would make a heck of a Christmas present I can make it priority for 3 more dollars. Either way it will have tracking.
This bad boy is ready to go with your receiver. Servos and swash are set. I just used some guys 450 settings reccomendations on youtube yesterday in my dx6i and took her around the yard for a spin. I'll also include some balancing tape for the blades. All you need is your rx lipo and tx.259 and 8 to ship
If you add up those used prices above on the part out list 401 -50 + metal Hitechs -70 + etc. you get 381- not including the spare Outrage cage and Align main gear and Align main shaft) - So clearly that's what it's worth.
Im doin 267 shipped with tracking, and 3 more if you want priority. Im not tellin anyone thay have to pay the paypal fee but i will give priority to the guy willing to help me out with that. Again if your wanting a certain piece Im not parting this out unless it doesnt sell in a week, and im pretty sure it will sell at this price, So I dont need 5 emails tomorrow asking for certain parts. Thanks - joe