REDUCED. Spares, 6cell lipo and blades added
436 shipped with new fiber glass blades PNPWith 6s 2700 lipo and spares - 470The lipo is covered after market and has nice little log label ready to go. Cycled a few times just broke in.I paid 35 just for the lipo and to get one will cost to ship from anywhere, and will add 4 bucks to this shipping but I need to sell some helis.~With-new fiberglass glades,-spare black flybar paddles with weights(NIP),-Align loctight that comes with kit (new, I used my own),-Good 6 cell lipo,-wire,-dean connector bc the lipo I got came with HXT,-some heat shrink,-spare new Align boom,-2 spare Align rods for head cage-spare rotor head rocker arm-bind plug with balls-and a NIP set of spare fiber glass blades.-Ceramic bearingsAll for 470 shipped..
Check how big it is by the 450!
I just finished building this TRex 500 heli. The kit is new. The only thing lightly used is the 780 gyro, cyclic servos, motor and the head was lightly used on a heli that went FBL. Otherwise everything is brand new never flown. The orange Align canopy does not even have the holes drilled for mounts(I will drill and put grommets in-unless youd rather do it). Tail is new esc and every other piece of kit and most spares new.This was gonna be my one and only big heli to fly all the time. I put a lot of focus in this thing. I'm only selling because I recently had some monetary issues,..so I have to sell some stuff.When building the kit I tried to do the best each step of the way. *****- I replaced stock bearings with ceramic bearings.- Replaced the align plastic canopy mounts with metal canopy mount studs.- Replaced the landing rods with tarot metal tipped rods(havent glued tips on yet).- Got HS5245MG Hitech super strong metal servos with blue horns.- Got blue bracket boom struts to match servo horns.- Used nice nylon tube spacers for oversized servo mounting rather than weak spacers and put lock nuts on all.- Got plastic tail housing for durability but replaced align tail mixer that had plastic bearing housing with a metal upgrade.- I professionally blacked out the 780 gyro to match everything.- I used black flex sheathing on all of the wires on all electronics to match everything.- Used all black tie straps to run the exposed wires. used yellow and black on esc lead by motor to match tail fin and gyro.It is, and looks super clean.- I put on Deans plug -proffessionally done and shrink tubed and can do it to the lipo if you need me to. The dean is included with shrink tube.Align ESP frame kit with orange canopyAlign 500 Bl motorAlign 60a escAlign DS520 tail servoAlign 780gp gyroHiTech HS5245MG cyclicIll take 22 off if your local and I would prefer it.I'd also planned on rubbing some epoxy around inside flex areas of new canopy so it stays looking new.(Let me know if you want me to do this. Its easy and a very good idea to do.)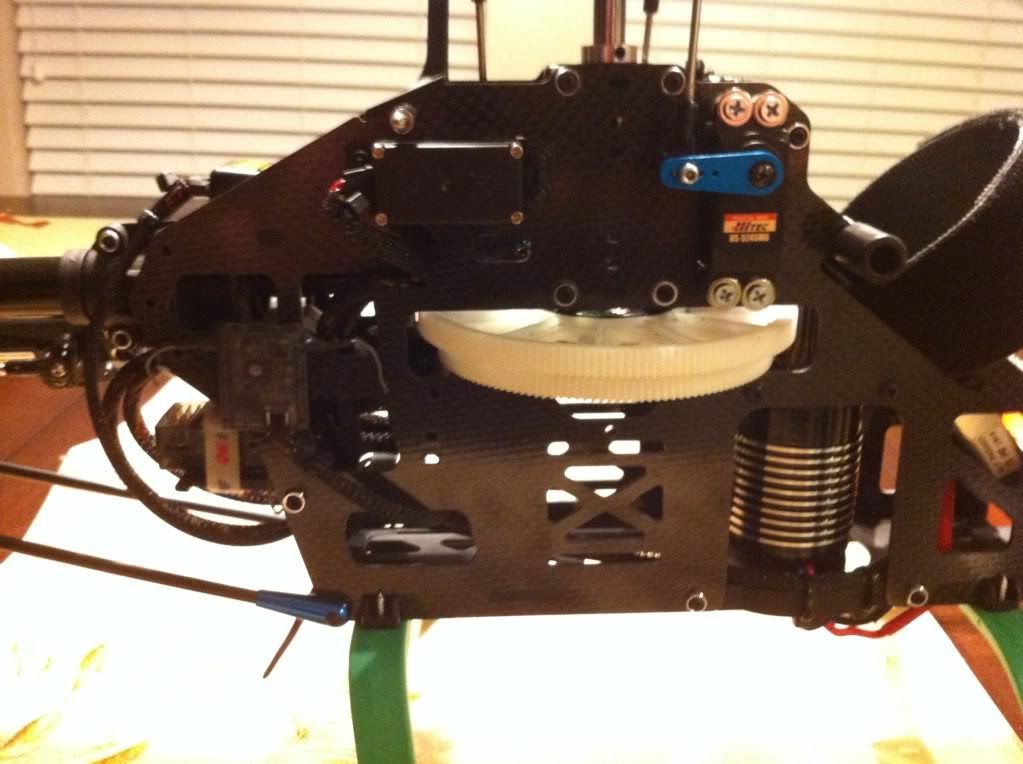 The other flybar paddles in the parts pic are gone.