Hi Guys
The following settings are what I have dialled in to my CGY750, on my FBL Dominik D3.
These settings are working with the stock D3 head, converted to FBL.
I have the new SSL head, but am waiting on new stocks of 690mm blades before I switch over, as the new head is wider.
Before I get started, I will list equipment used, for a baseline.D3 EX
Converted head using Mikado washout base and arms, and D3 seesaw balls.
Cyclic servos: Futaba BLS253
Tail servo: Futaba BLS251
Throttle servo: Futaba 9252
Voltage reg: Dualsky VR8L at 6v
Servo horn hole spacing from center: 12.5mm
Receiver: Futaba R6108SB
Flybarless system: Futaba CGY750 (sensor is top mounted, with lead facing to the rear)Settings will only be shown if I have changed them from default, or if I think it was of interest to anyone doing the same.RUDDER BASIC
Servo: 760
GY.DR: reverse
Sv.Limit A: 100
Sv.Limit B: 117
FLT. Mode: 3DRUDDER EXPERT
F/F.Rate L: +20%
F/F. Rate H: +20%
Sens Mode: ModerateAIL BASIC
Ail Dir: Rev
AGN: 82% Gm:A90%
Same for Normal mode
Work Mode: CMTAIL EXP
AVCS DMP: 100%
ANG Rate: 125%
Sen Mode: MiddleELE BASIC
Ele Dir: Norm
All other settings are the same as AilSWASH BASIC
Type: H3-140
Servo: 1520
Size: 600-700
Flt Mode: 4
Ail.Rev:Normal
Ele.Rev: Reverse
Pit.Rev: Reverse
Ail.Ntr: 0
Ele.Ntr: +30
Pit.Ntr: -23
Ail and Ele Rate: 60%
Pit Rate: 40SWASH EXP
Phase Equ: OFF
Rot Equ: ON
Equ.Dir: NormalGOV BASIC
RPM Set1:1800
RPM Set2: 1900
RPM Set 3: 2050
Gear Ratio:8.25
Servo Type: 1520
Yaw.Comp: CW/TopGOV EXP
Wrk.Mode: Governor
Response: Middle
GV.Gain: 45%
Llmt.Hov: 25%
Llmt.Idup: 45%My radio is a Futaba 10CHGSettings:
Only listed where changes made, or if relevent to each individual setup.
IE: I will not show trim flight subtrim settings, as these will not work for you.REVERSE:
Elevator
ThrottleAux-Ch Select
CH5: SwF
CH6:----
CH7: SwC
CH8: SwD
CH9: SwB POSI: UP
CH10: SwB POSI: UPParameter
Swash: H1THROTTLE CURVE
Norm: Linear
ID1: 100,75,70,65,70,75,100
ID2: 100,82,75,75,75,82,100PITCH CURVE
Norm:-18,-18,-18,0,+25,+50,+100
Id and 2 are linear
Hold: LinearGYRO SENSE
Mix: ACT
Mode: GY
SW: CondRate:
Norm: AVC 80
IDL1: AVC 80
IDL2: AVC 80
Hold: AVC 85GOVERNOR
Mix: ACT
UP: 0%
CTR: 50%
DWN: 100%
SW: E
cut CH: +CH7CONDITION SELECT
Idle-Up 1: E: Center
Idle-Up 2: E: Down
Idle-Up 3: INH
THR-Hold: C: CTR and DWNThats about it.
Hope some of you find this helpful, as its painful to sit here typing it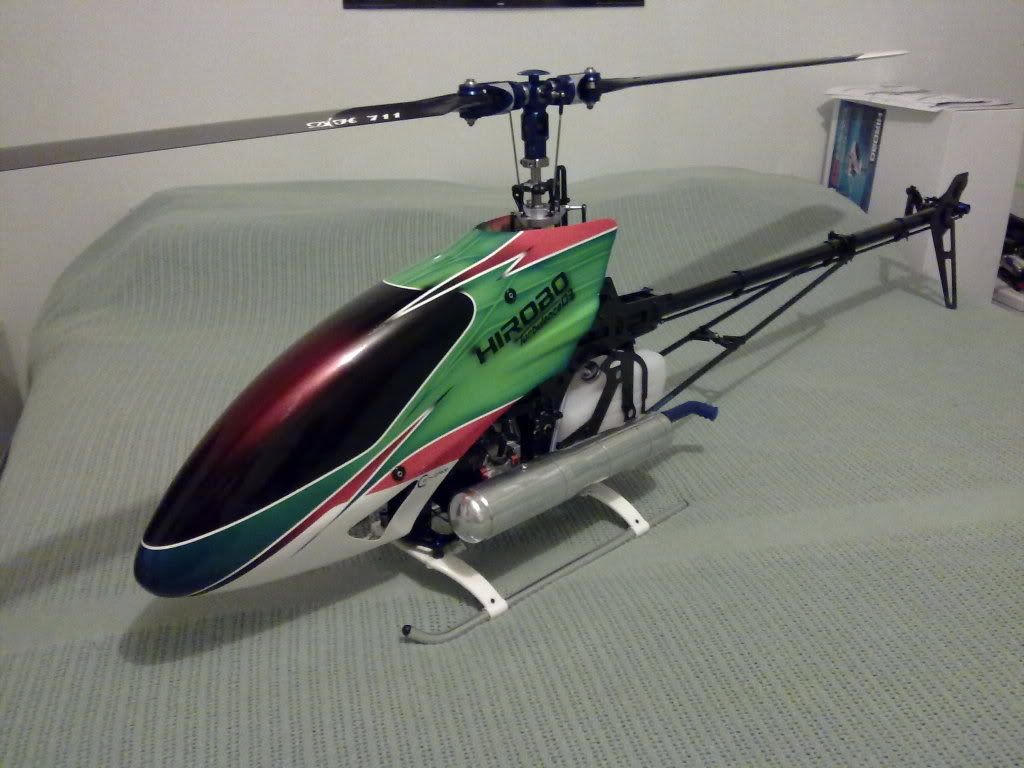 For the love of the hobby