Two servo's for sale.
Selling a like new
JR 8900G
digital servo. Only has a few flights on it and is amazing!!
$75
Specs
:
DS 8900G Ultra-Speed Digital Gyro Servo 4.8V
Key Features
* Blazing .05 second transit improves any gyro
* Ultra-Speed Servo for Instant Tail Control Reaction
* Aluminum Heat Sink Center Case to help keep motor cool and increase efficiency
* Ultra Precision Nylon Gears
* Perfect for 600 Size and larger Helis
* JR's legendary digital holding power and resolution
* High Frequency Response System
Specs
Type: Digital Ultra Speed Heli Tail Servo
Torque: 72 oz-in @ 4.8V
Speed: .05 sec/60 deg @ 4.8V
Dimensions (WxLxH): .827"x1.59"x1.57"
Weight: 2.1 oz
Bearing: Dual
Motor Type: Coreless
Gears: Nylon
Application: Heli Tail Rotor
Voltage: 4.8V only
Deadband: Zero deadband for ultra precision and performance
Part # Jrps8900g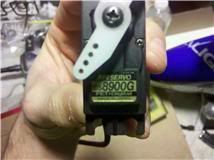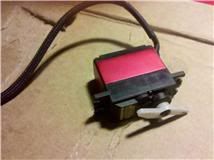 Also selling my spare Hitec HS-5084mg digital servo. This is the BEST tail servo for the trex 250 IMO. Its rock solid and will work for other applications as well.
$40Specs:
Modulation: Digital
Torque: 4.8V: 21.0 oz-in (1.51 kg-cm)
6.0V: 26.0 oz-in (1.87 kg-cm)
Speed: 4.8V: 0.07 sec/60°
6.0V: 0.05 sec/60°
Weight: 0.76 oz (21.5 g)
Dimensions: Length:1.14 in (29.0 mm)
Width:0.51 in (13.0 mm)
Height:1.18 in (30.0 mm)
Motor Type: 3-pole
Gear Type: Metal
Rotation/Support: Single BearingTwo servo's for sale.