Most of these batteries have been purchased on the forums. These batteries are in good condition, some having few or no charges on them as stated by the previous sellers. Those that have been used or cycled by me were done so by a CellPro Multi4 or TP610C, both good balancing chargers. Please read the individual notes on the batteries you intend to purchase. I would prefer to sell these in as large groups as possible, please PM with any questions. If anyone is interested in the entire lot I will do a deep discount price to sell all at once.
When paying please be kind and use a bank account, doing this and selecting the "Personal" option allows me to offer my stuff to you for cheaper. If using a credit card through paypal please add 3%.All prices shipped first class, w/ tracking and no insurance Continental U.S lower 48.
2x Zippy 4s 2100's
- 50$The bottom two batteries. Just a few cycles on them, around 10 cycles. These are 25C discharge strong batteries. Deans Attached.
Zippy-H 4s 2100 25-35C- 25$ SOLD
Blue shrink wrap, never flown by me, 4 cycles stated! Almost brand new except for a small piece of electrical tape that was used to prevent the shrink wrap from cracking. Deans attached.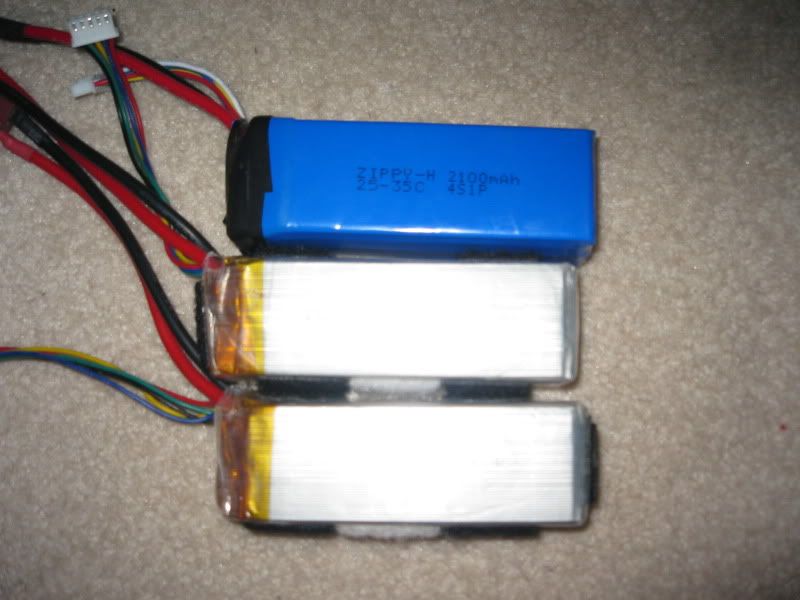 2s Neu Energy 2500XP's- 40$ SOLD
Brand never have been run or cycled. These cells are rumored to have a 5c charge rate like the new versions but I cannot confirm this! From what I hear NeuEnergy batteries are on par with the best high-discharge batteries out there. No connectors.
3s Loong Max 1300mah 25C- 10$ SOLD
~30 cycles
This battery feels a little soft but preforms well. Never abused or low discharged while in my hands like all of my batteries.
3s Parkzone 1300mah- 15$ SOLD
~10 cycles
Purchased brand new, a good strong battery. I believe these are rated at around 15C constant. Deans attached.
2x Turnigy 1300 mah 20-30C 30$ SOLD
~15 cycles
Purchased brand new, they are good strong performers with a high "C" rating. Deans attached.
2x Zippy 2s 800mah 20-30c
- 15$Never used by me, they look good, JST's attached.
Rhino 3s 750 - 8$ SOLD
The sticker is peeling back on this one but other than that it is a good battery. Never puffed, ran on a small delta wing with low amp draw. JST attached.
JR TX battery 7$ w/ purchase
Feel free to grab an extra TX battery for those long days in the field for 7$ with another purchase.
2x Zippy 1300's 20-30C- 15$ SOLD
One of these was discharged somewhat low when a plane got stuck in a tree but was recovered with the Multi4. There is a noticeable difference between the two but it still preforms o.k and takes a good charge. Deans attached.