When I first got my JR9303 in 2007 (coming from Futaba), one thing I really didn't like about it was that I needed to flip multiple switches in order to activate my D/R.
There is a solution!
This is how I assign Dual Rates to a Single Switch on the JR 9303 radio. It uses the "Flight Mode Extra" function.
----------------------------------------------
First thing you need to do is go into the Device Select menu and enable the "F. Mode Extra"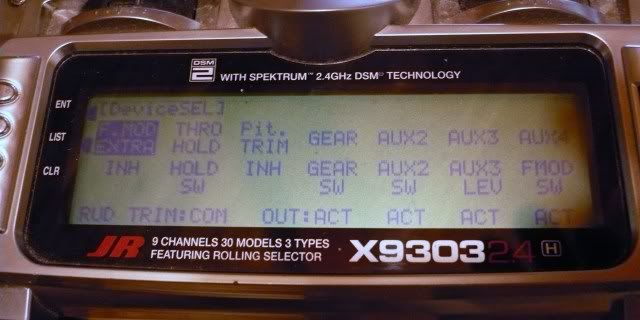 Select an available switch to use. Choose the switch that you would most prefer as your D/R switch. I like using the Elev D/R.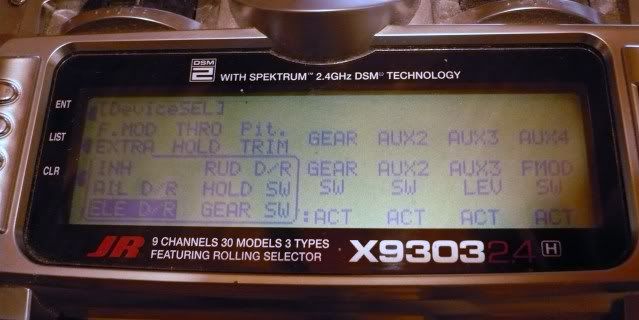 Now go into the Dual Rate & Expo menu.
I assigned 80% to Pos.1 on both Aileron and Elevator D/R (not shown).
I like to use 30% Expo. Assign your Expo on this screen (if desired)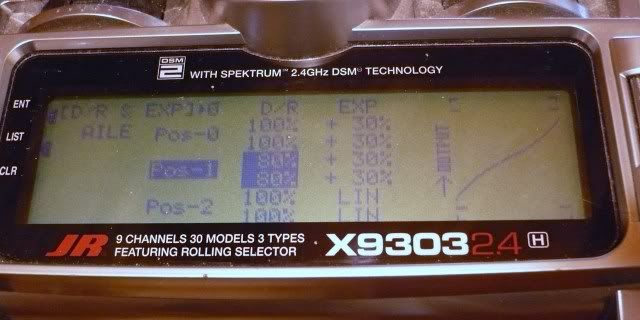 Scroll all the way to the right until you get to the "Auto" function. I assigned Pos0 for Flight modes 1 & 2, and Pos1 for Flight Modes 3 & 4.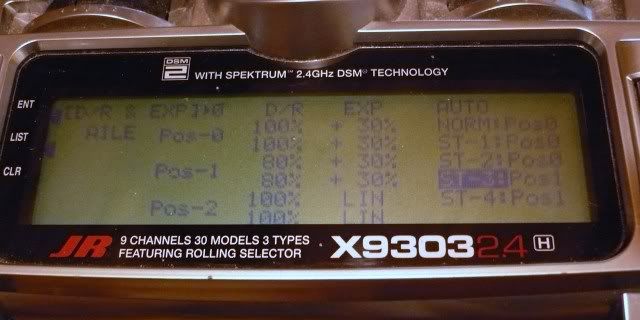 My Elevator D/R switch now toggles between ST1 & ST3, and between ST2 & ST4. (Switch High. notice "ST1" appears on the display)
Switch High= High Rate
My Elevator D/R switch now toggles between FM1 & FM3, and between FM2 & FM4. (Switch Low. notice "ST3 appears on the display)
Switch Low= Low Rate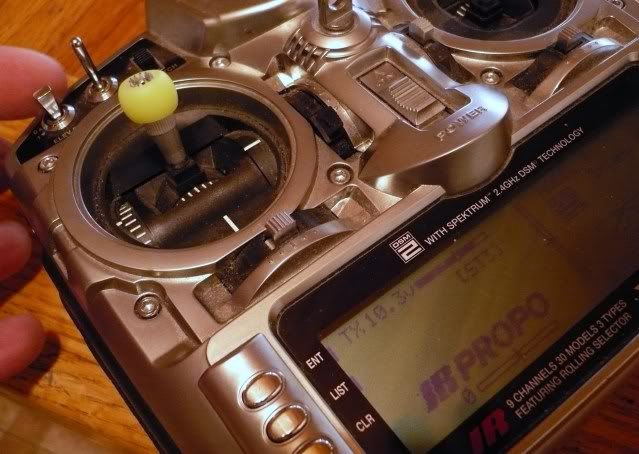 Note: Flight Mode Extra does not work for "Normal Mode", so you're stuck with a single rate.
ATTENTION! / ACHTUNG!
Go back through your flight modes and adjust your pitch curve, throttle curve, gyro and governor settings where applicable to make ST1/ST3 the same and ST2/ST4 the same.
  ▲
▲ ▲