My advice it to learn a bit about the aerodynamics involved in an auto. When you do, it gives you a better picture of how to ride the collective on the way down.
There are three parts to an auto, the decent, the flair, and the touch down. BTW, always do then into the wind, and always keep a bit of forward speed while you do them. Never go straight down!Let me try to explain it simply (I suck at simple)When you auto the rotor is being driven by the air that is going across it. The term is sometimes called windmilling. When you have the "right" angle on the blades, the outer part of the rotor is making lift and inside part is driving the rotor.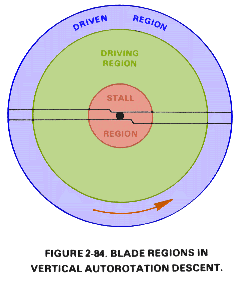 (The pic is from
http://www.copters.com/helo_aero.html#concepts
)At the same time, the drag component of the blades is also pointed upwards in relation to the helicopter creating lift. When these forces balanced out the helicopter has a steady state decent meaning it falls at a steady speed. It also means that the rotor is keeping a steady RPM!
Here is a cool thing, when the heli is on that condition, it makes a very distinct sound, too much negative and the heli falls like a rock, too little and the rotor will slow down, just right and you will listen a steady rumble caused by the windmilling.
Down to the last 10 to 15 feet, now is time to convert your forward speed into MORE lift. Start pulling back on the cyclic
while holding the same amount of negative pitch you had all along
. If you do it right the flair WILL stop the helis decent almost completely, and your rotor will even speed up a bit more.So now you are 2 feet off the ground basically hovering with no engine, and probably still leaning back from the flair. The rest is to smoothly push forward to level the heli and apply the rest of your collective to settle down on the ground. If you are swinging 700mm heavy blades you could drink a cup of coffee while it settles down. If you are swinging very light 500mm blades, you will feed the collective quickly as the same time that you level off.Autos in heavy wind are easier as the wind gives you more lift.I teach autos by first doing then in normal mode with the engine idling. That way you can practice the decent and flair, which are the two most important parts of the auto, if something happens, you just advanced the throttle SLOWLY and bail out.
Good LuckSantiago