Hope he can salvage the TG!
ON the CNC head I have gotten 2 different length spindles both in E-sky packaging. Although the stock dampeners are mushy and almost need replaced after every crash. They can be stiffened up by a shoulder washer and crushed into the dampener seat. Its gotta be the right thing to do Align does it on the TREX.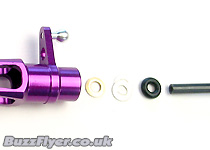 Trex doubleups o-rings and squashes them but now you can buy solid dampeners like the windshield wiper hose mod.
(they are watching you dougie)notice part 19&20 thicker washer gives tighter quicker response.
No Really I am the club President!!!