I have a lightly used never crashed RX72N Rx with built in ESC for sale. I used this on a glider project that never even got into the air, I lost interest in my project I am just looking to get some money back. This little unit is awesome only weighting in at 5.5grams and comes with built in ESC to boot! I have made it so you can plug in any type of servo and dont have to worry about modding your servos to take the special plugs to the RX. Pictures below!
Asking $100.00 shipped!Thanks for looking!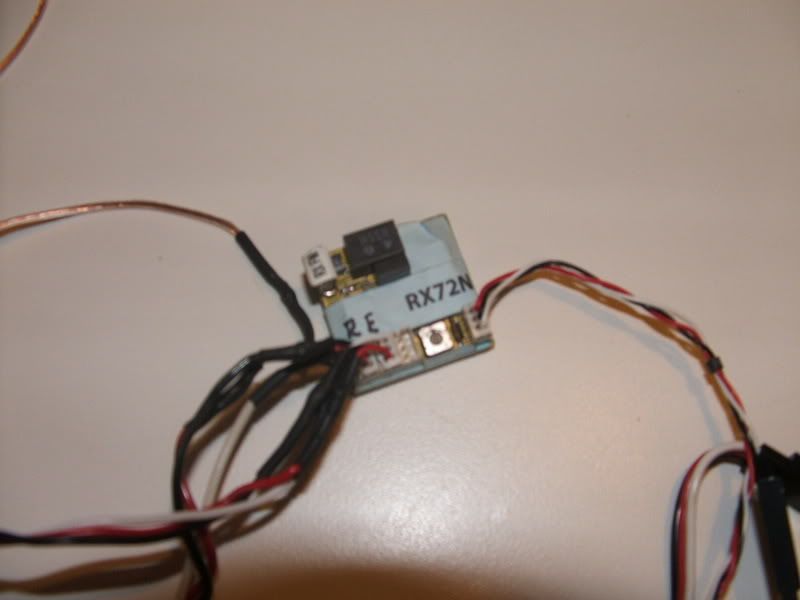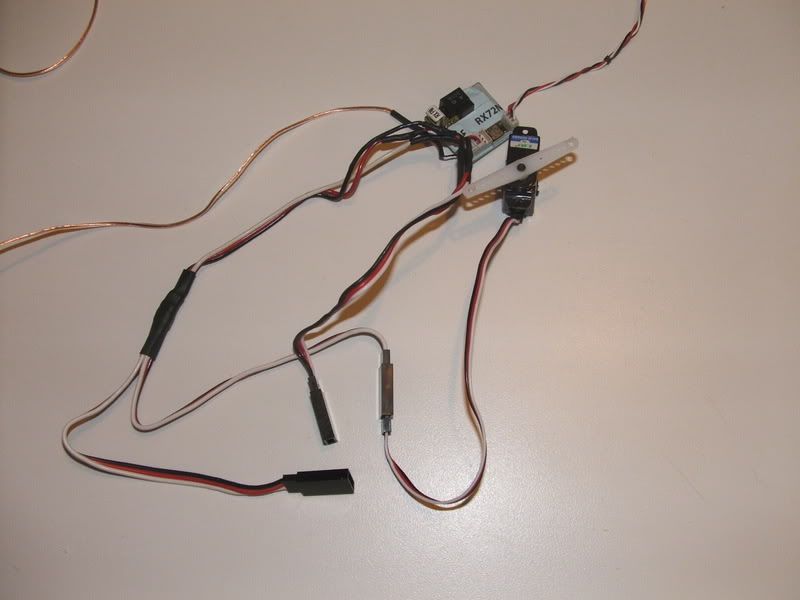 Information below was copy and pasted from the following link.
http://www.skyhooks.ca/hybridn.htm#Hybridn
[CENTER]
NEW NARROW BAND HYBRID SUB-MICRO RECEIVER
FROM SKY HOOKS & RIGGING[/CENTER]
The new RX72N-HYB, 5.5 gram, sub micro receiver, from Sky Hooks & Rigging, is lighter than other narrow band receivers without speed controllers. This unit also incorporates a number of other features not found in the other receivers. Now you can go outdoors to the park, with other flyers, and not worry about being glitched unless someone else is on the same frequency you are using. This thing has single channel discrimination.The speed controller is built in and has a BEC, soft start, and 7 Amp continuous capability. The controller does not chop the throttle, but drops high throttle to one-quarter so that you can still land your airplane if you are driving a slow flyer. You no longer need to worry about whether or not you will destroy your lithium polymer cells;...the throttle cut-down Voltage is selectable to several preset Voltages. The system is capable of providing throttle cut-down at 6 V. used by some for two lithium polymer cells (POLYCELLs), 5.1 V. for NiCd batteries or NiMH cells, 9 V. for 3 POLYCELLs, and 12 Volts for 4 POLYCELL operation. You can also turn OFF the throttle cut-down, in case you want to fly four to five volts without worrying that your plane will shut down ahead of schedule. The speed controller runs at 4 kHz. This should help to save some brushes as it is a higher frequency than can be found in most available speed controllers. Only the little 1.5 Amp HF-100 controller, by JMP could be found with a higher frequency.The RX72N-HYB does not care whether you are using Futaba, Hitec or JR, or where the throttle is in the pulse stream. The guys at the Sky Hooks lab have designed the receiver to read the incoming signal to determine which brand of transmitter you are using and where the throttle should be. If you want to change your transmitter, just do so. Also, changing channels is simply a matter of getting the appropriate crystal from Sky Hooks & Rigging and plugging it into the receiver's crystal socket. This thing is really a no muss, no fuss machine that will stand out in front of other receivers.Like all Sky Hooks & Rigging receivers, the RX72N-HYB is tested to 1,000 feet. Although the actual airborn range is much greater than that, we only test to 1,000 feet on the ground because it is not possible to see a small aircraft comfortably at greater distance.
The RX72N-HYB has the following characteristics:
72 MHz, FM fully proportional
Single channel discrimination
Built-In Electronic Speed Controller selectable throttle cut-down points.
Servo channel functions (3 servos plus one dedicated speed controller) 4
Available frequency channels for 72 MHz 11 through 60
Weight (including antenna, connector sockets, crystal and shrink wrap) 5.1 g.
Dimensions 1" x 1" x 0.375"
Range 1,000 feet
Current Draw 10 mA @ 5 Volts
Operating temperature range 0°C to 70°C
Input Voltage Range 15 Volts
RF Input Bandwidth ±10 KHz
Transmitter Compatibility JR, Hitec, and Futaba
N-HYB Speed Controller Characteristics:Features:
4 MHz RISC Microprocessor
Safe - Switch-On. Waits for Low Throttle before starting.
Soft Start
LED used as throttle indicator.
Fast throttle response.
Motor stops on loss of signal
Motor restarts on signal reacquisition.
The RX72N-HYB ESC does not shut off power to the motor, when the battery Voltage drops below a predetermined Voltage, but reduces the amount of full throttle available to a maximum of one-quarter-throttle.
You may program he RX72N-HYB ESC to cut down the throttle at any one of the following Voltages, using the ESC Cut-Off Setting Switch:
5.1 V., 6.0 V., 7.2 V., and 9.7 V.
You may also turn off the throttle cut-down by selecting 0 on the switch. With 0 selected, the BEC still operates, but the throttle will not cut-down. The ESC Cut-Down Setting Switch is a rotary switch with five preset positions for the cut-down point for the throttle.
Control range: 1.2 ms to 1.8 ms
Valid pulse range: 0.8 ms to 2.4 ms
Nominal voltage: 6 to 10.5 V (15 V absolute max.)
Current: 7 Amp continuous, 9 Amp max.
BEC: 0 V., 5.1 V., 6.0 V., 7.2 V., or 9.7 V. selectable, max. 0.8 A
Modulation frequency: 3 kHz
Voltage drop: less than 17 mV / 1 ALED and AUDIO STATESSlow Blink Throttle on and motor running
Full On and Bright Full Throttle Position
Fast Blink Low Battery Warning
LED Off Motor is Off $159.00 each USD
$210.00.00 CAD equivalent