Daniel Reese
rrApprentice
Urbana OH
TRex Electric 600CF in a Thunder Tiger MD500E

I'd had this Trex for about two weeks before putting the fuse on- it just seemed too naked and the MD500 is the coolest helicopter ever!After all the reading on this and other forums, I expected this to be alot harder than it was. The fuse is designed as a drop-in for the Raptor but fitting a Trex was nearly as easy!The Raptor gets mounted to the fuse skid arches in place of the stock skids (in front). in the back, they give you a pair of brackets to fit those arches behind the mechanics. None of those line up on a Trex. So, I used 1/8" ply to make a full floor, reinforced it with two carbon fiber rods, then secured the mechanics to that. Amazingly, that allowed the mechanics to line up nearly perfectly with the fuse.I secured the fuse landing skid arches to the plywood floor with supplied self tapping screws. Then I CA'd a pair of carbon fiber rods to bridge the space between the front and rear arches. The TRex mechanics line up almost perfectly with the front arch but the holes are offset just enough that were I to drill new ones, they'd run through into the old and make the whole thing useless. So I adjusted the position of the mechanics forward 1/8" and drilled down from there. That new hole was just barely in the skid arch so I laid a bead of JB Weld putty along the arch to reinforce where the new holes are and ensure the screws had something to bite into. The carbon fiber rods were spaced so as to fit as far apart as possible yet remaining under the mechanics- there's a small gap molded under the baseplate that was just the right space for those rods. I wanted to use CF to bridge that gap since the mechanics weren't going to reach to the back skid and I didnt trust the plywood to hold all the weight alone. The rear skid mounting holes on the Trex mechanics bolted through the plywood and into a CF cossmember thereby sandwiching the plywood between layers of CF rod.THe fuselage supplies a pair of brackets to relocate the Raptor's canopy mounting holes and these fit the Trex perfectly. I used the Elevator servo's mounting screw position with a longer screw to secure the bracket on the right side, and used a similar screw with a spacer on the left side. These brackets lined up with prespotted (not drilled) holes in the fuse and were secured with self tapping screws.The tail on a Trex is about 2" shorter than the Raptor Titan for which this fuse is made, (V1 and V2 will fit just as easily) so I had to cut off about 1/5" of the fuse's boom to clear the gearbox. I dismounted the gearbox to mount the mechanics- slid the boom through then mounted the tail gear box again. I moved the rudder servo forward; eliminated the forward servo mounting clamp and instead used a longer bolt with nyloc nut threaded through the unused hole in the frame's boom clamp with a spacer to maintain alignment. I made a longer pushrod from hollow CF rod and epoxied threaded ends on. The fuselage's boom tented to push up on the bottom of the mechanics boom, interfereing with the pushrod. THe supplied foam rubber spacer was intended for the very end of the boom and since I cut a bit off, it was too loose to be useful, besides, the hole for the pushrod was WAY too small. So, I cut a 2" x 3/16" groove from the bottom at the very end of the boom to clear the pushrod and secured the mechanics boom to the very top of the fuselage boom. This ensured enough space for the pushrod.The mainmast lined up perfectly with the fullsize helicopter positioning with plenty of space for the antirotation bracket. I did have a tiny bit of interference from the front edge of the fairing that needed whittled out. Once sanded and repainted, it'll be hard to notice.Many people have expressed concern that the flybar will hit the raised fairing at the rear of the rotor mast. Two common solutions are an extended mainmast or conversion to a Raptor head to put the flybar on top. My installation ended up having the flybar less than 1/4" below the fairing when lowered to full downward deflection. At lowest pitch (-2*)and full rearward cyclic, the flybar juat barely touches the body. In actual flight, with the dual rates on cyclic at 60%, it never comes close. Not even when doing full speed forward followed by full throttle rear, not when doing left and right turns as hard as I can. Now, Im not doing 3D but its flying a heck of alot harder than any REAL helicopter would and it never comes close. I was in the process of trying to find a raptor head or ordering longer mainshafts when I took it for a test flight. That was 4 days ago and after 4 days of flogging the crap out of this thing, the flybar never comes close to the fuse. Im going to pass on the raptor head and the extended mainshaft until I decide (if I ever do) to increase negative pitch- bringing the flybar closer to the fuse.I also installed a Revolution micro antenna and a wireless color camera in the cockpit. This is the camera setup on my TRex 450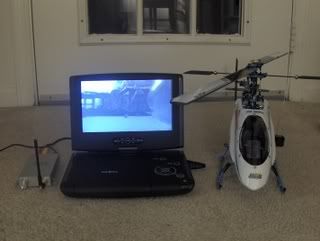 The only thing left is the upgraded wireless downlink with better camera and blackbox telemetry overlay...and paint. I had always inteded to make this a civilian model sice the olive paint makes it terribly hard to see below treeline!For most of the flights, I strap in my HP digital camera over the battery inside the canopy for a pilot's eye view of the flight.So, enough talking- heres the pictures and videos!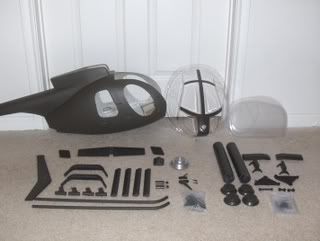 Here you can see the flybar issues

This thing is HUGE!

Fitting the batteries is done through the front doors. A bit tight but doable.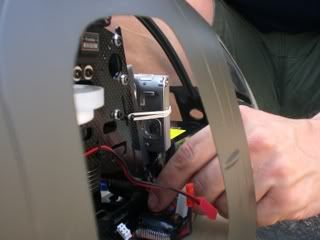 Here's the HP camera in position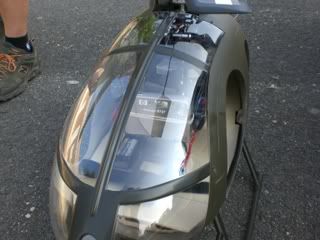 And here's the videos:
Initial testflight with onboard camera
http://video.google.com/videoplay?d...150984126125040Just hovering
http://video.google.com/videoplay?d...530157304684491Doing flybys on my camera man
http://video.google.com/videoplay?d...920421061703779