This isn't specifically R/C helicopters, but the early history of helicopters in general

So before there was R/C, there were just free-flight toys.

Without these, we wouldnt have helicopters. And without helicopters, we wouldnt have RC helicopters. Without RC helicopters, we wouldnt have RR. And without RR.... What would Mark do with Himself?from:

http://www.helis.com/pioneers/

---------------------------------------------------------------------

The first concept of rotary wing aviation came from the Chinese in the fourth century A.D.

A book called "Pao Phu Tau" tells of the "Master" describing flying cars (fei chhe) with wood from the inner part of the jujube tree with ox-leather straps fastened to returning blades as to set the machine in motion (huan chien i yih chhi chi). This is the first recorded pattern of what we might understand as a helicopter.The technology needed to create a helicopter had not been produced yet but the concept of rotary wing aviation had unquestionably been found.

- John FayThe evolution400 BC : Chinese topsA toy, consisted of feathers at the end of a stick, which was rapidly spun between the hands to generate lift and then released into free flight. These toys were probably inspired by observations of the autorotating seeds of trees such as the Sycamore.

1480 : Leonardo Da Vinci 's Helical Air Screw"...I have discovered that a screw-shaped device such as this,

if it is wellmade from starched linen,

will rise in the air if turned quickly..."

Leonardo Da Vinci - Codice AtlanticoHis theory for "compressing" the air and obtain lift was substantially similiar to that for today ´s helicopters.Often been cited as the first serious attempt to produce a working helicopter, Da Vinci 's was only an experimental design and was never put into practical use. Was clearly far ahead of its time, but without adequate technology the ability to create such machines was virtually impossible.

His sketch of the aerial screw or air gyroscope device is dated to 1483 but it was first published nearly three centuries later.

A scale model (currently exposed at the Science Museum of London) recently built with the original Da Vinci plans was not successful to raise itself in flight.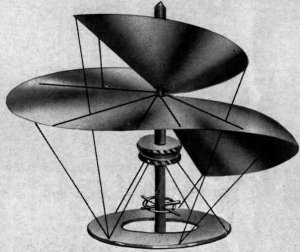 --------------------------------------------------------------------From:
http://www.chinamaze.com/article250.html
(the celebrated inventions of Ancient China)The Helicopter Rotor & Propeller. While the Ancient Chinese didn't actually invent the helicopter, they were involved in its creation. In the 4th century A.D., they invented a toy called the "Bamboo Dragonfly". You've probably seen them as prizes at local fairs or carnivals. It was a toy top, with a base like a pencil and a small helicopter-like blade at the end. The top was wrapped with a cord. When you pulled the cord, the blade would spin around and soar into the air. This toy was studied by Sir George Cayley in 1809 and played a role in the birth of modern aviation. It wasn't until the early 1900's that the first helicopter took flight.---------------------------------------------------------------------