I asked Michael how much the mechanics were, and was very pleasantly surprised at the price. When I looked closely at them the whole arrangement was so simple, it would be much easier than using the old ones from the 145. I persuaded him to sell me a set even though they were not fully tested yet. After waiting for a while the mechanics arrived and then I had to go through them to see which Goblin parts were needed to complete the build. Eventually some of them arrived and I could get started on the assembly. First up was building the Goblin 3 blade hub and blade holders and fitting it to the custom gearbox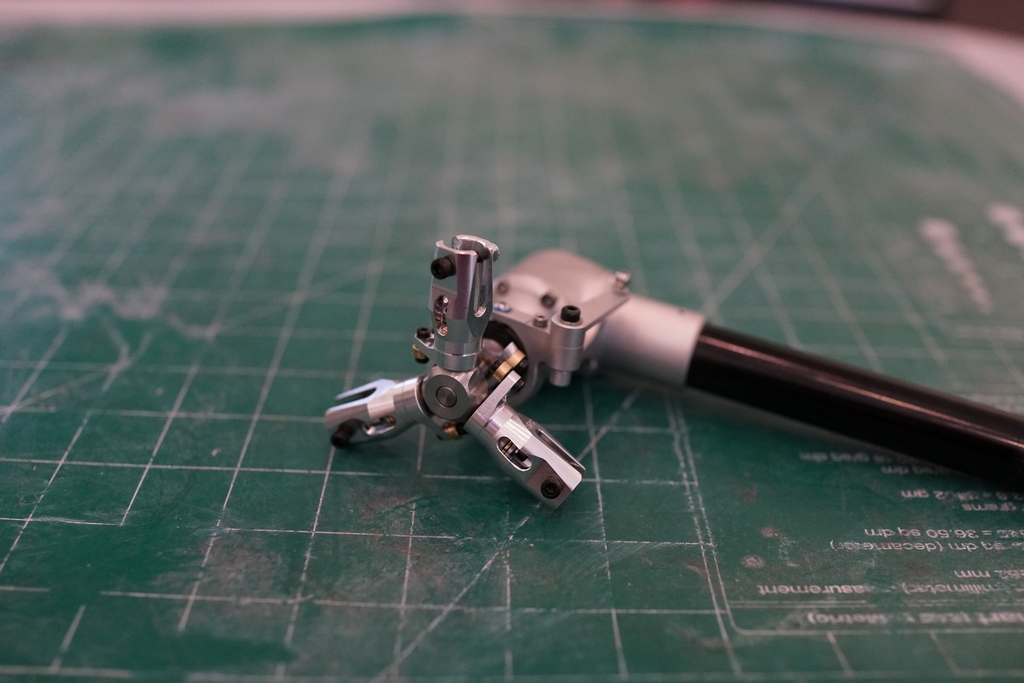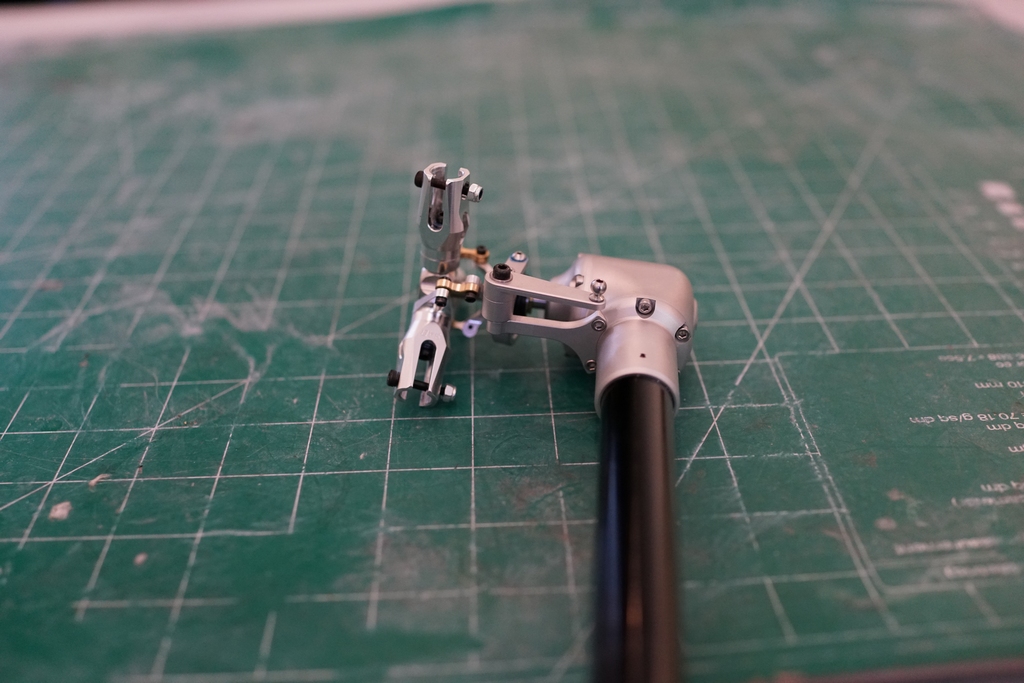 The gearbox was already pinned to the tail tube and the short drive shaft cut to size and fitted with Align couplers.Next I had to cut a 25mm hole in the top of the fin to take the gear box. That meant nearly cutting all of the top out, but there was about 1mm left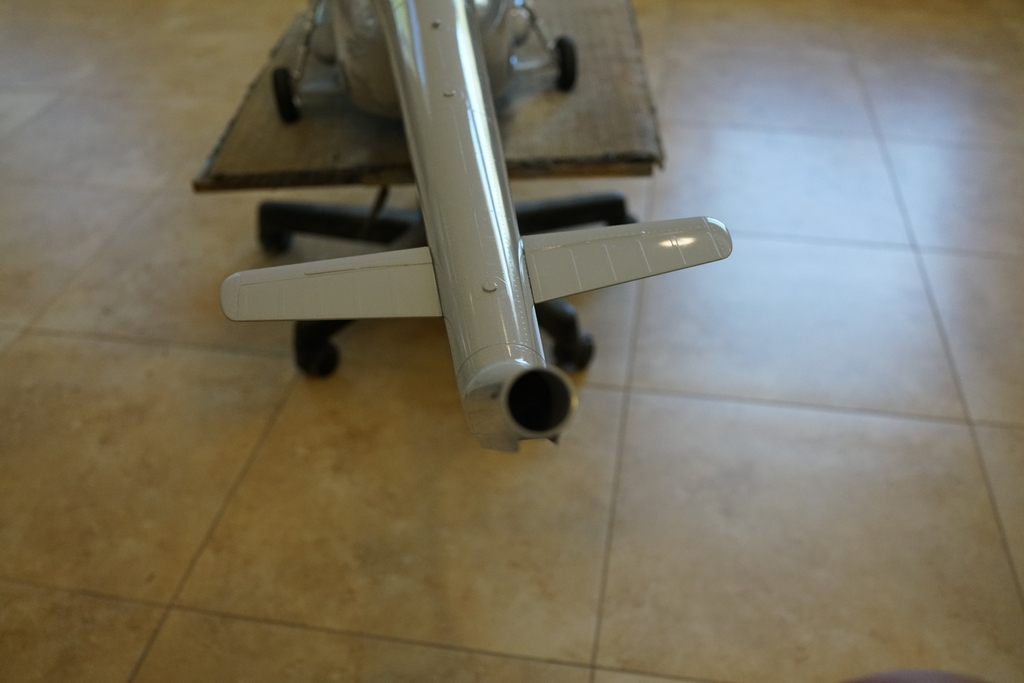 The scale gear box looks great snugged down, but it comes out for the next part.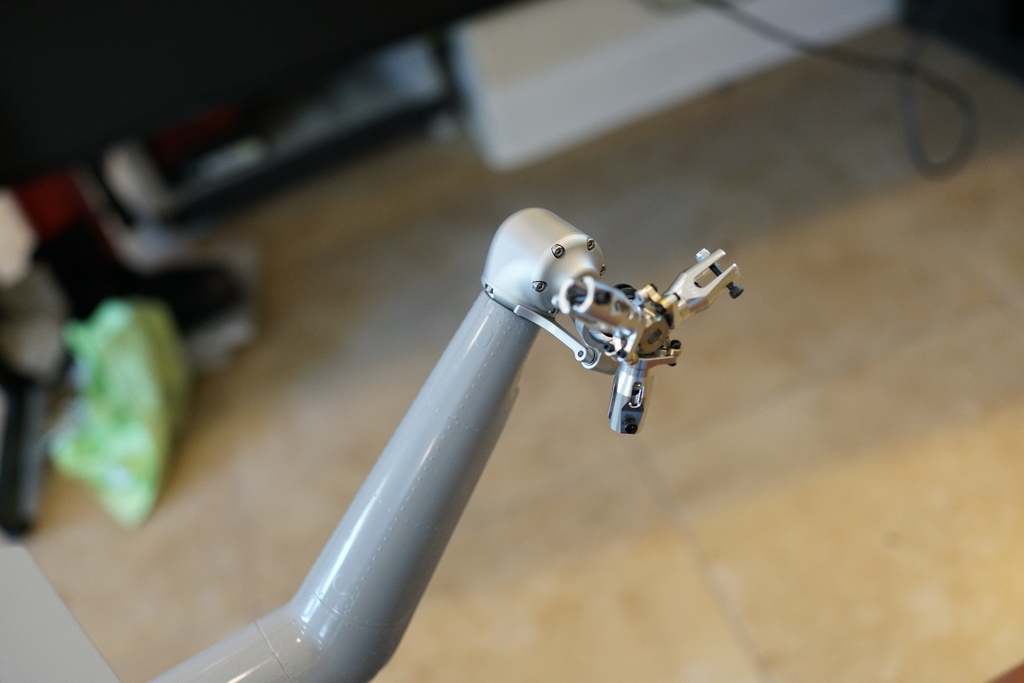 Put it all to one side and pick up the tail tube with the drive shaft already installed. Slide the 45 degree gear box on and tighten up the clamp. Then I had to remove a screw, drill a 2.5mm hole through the tube through the screw hole and replace the screw. This locked the angle gear box in place. Then clip on the pre built pushrod.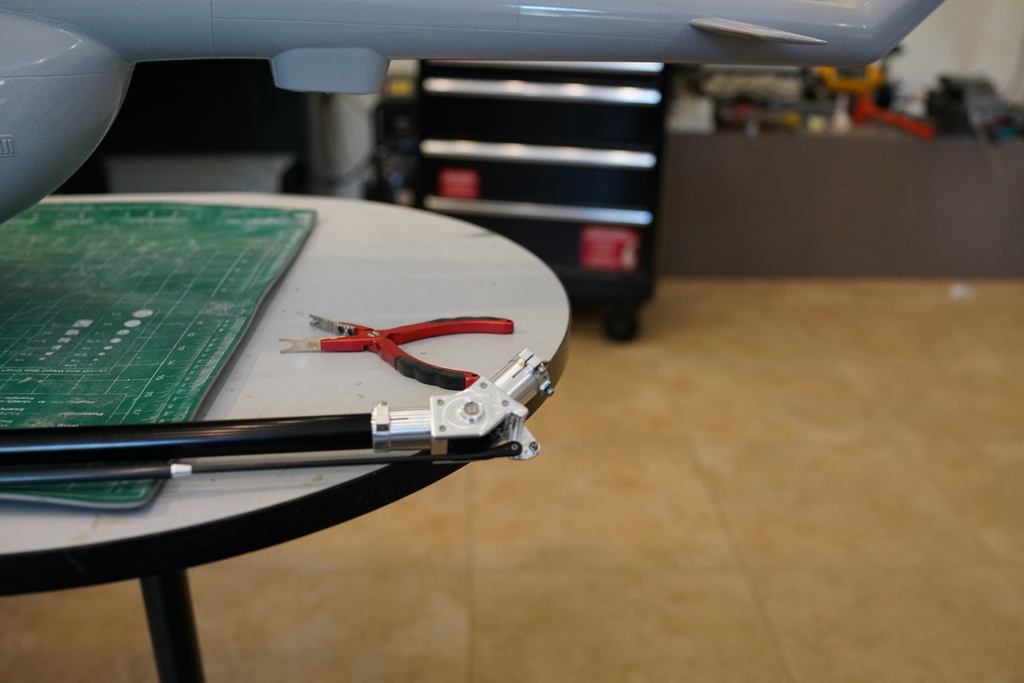 The next step was to fit the tail servo to the servo mounting brackets and slide them on the tail tube. Don't worry about the split servo lead, I'll explain that later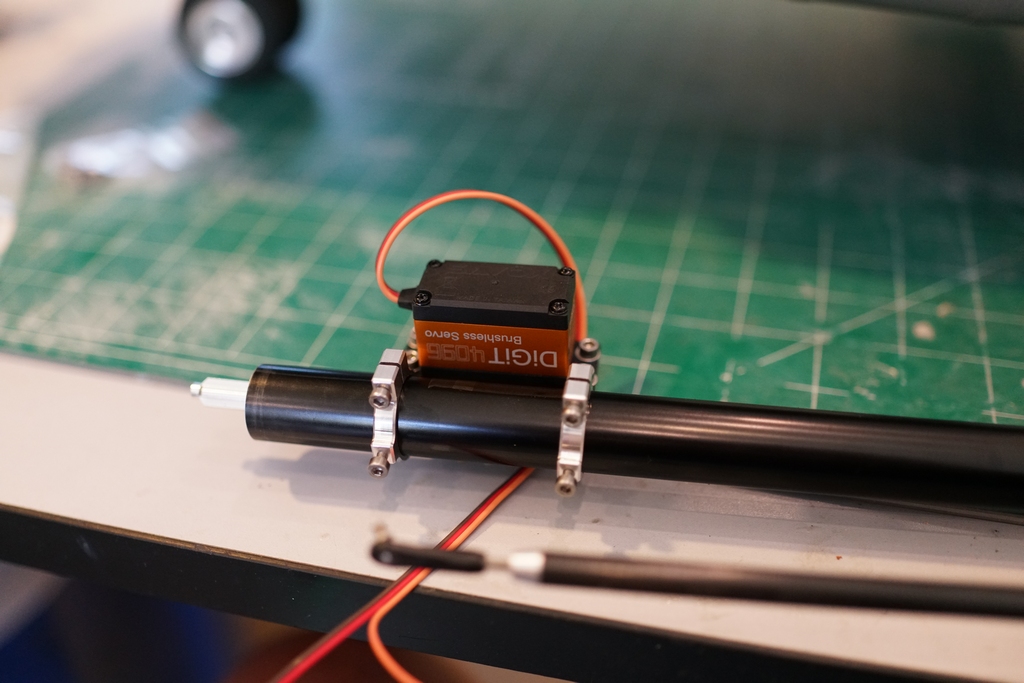 The pivot at the rear has to be in an exact place with the servo arm at right angles to the servo and then the clamps are tightened down. Then a 2.5 mm hole is drilled through the center screw hole. This locates the servo in the perfect position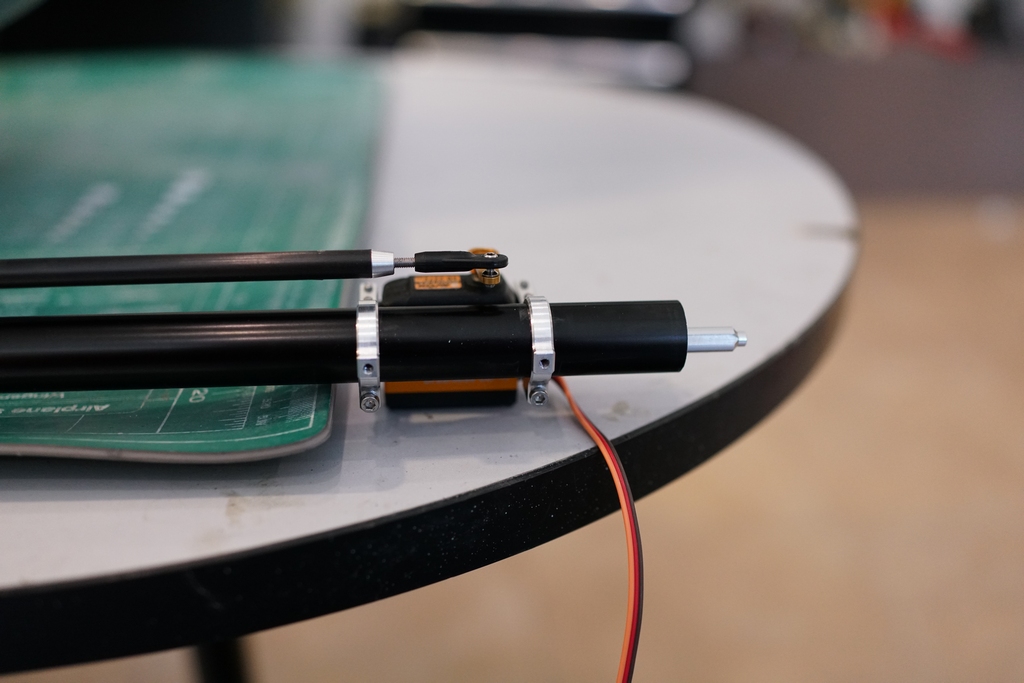 Now the servo comes off and the tail tube is slid into the tail boom with the push rod. The hole for the push rod needed a little sanding to allow the thick rod to go through. Its the bottom eye shaped hole.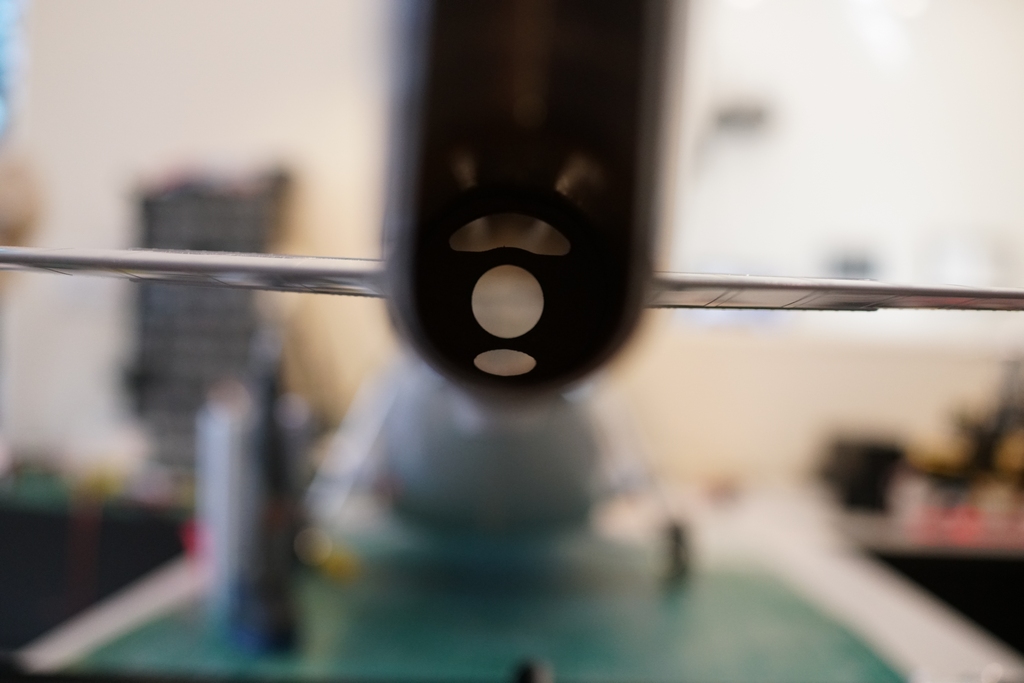 Now the drive shaft can be inserted into the tail gear box and the gear box pushed into the tail boom. Couple up the push rod and check it's free to move.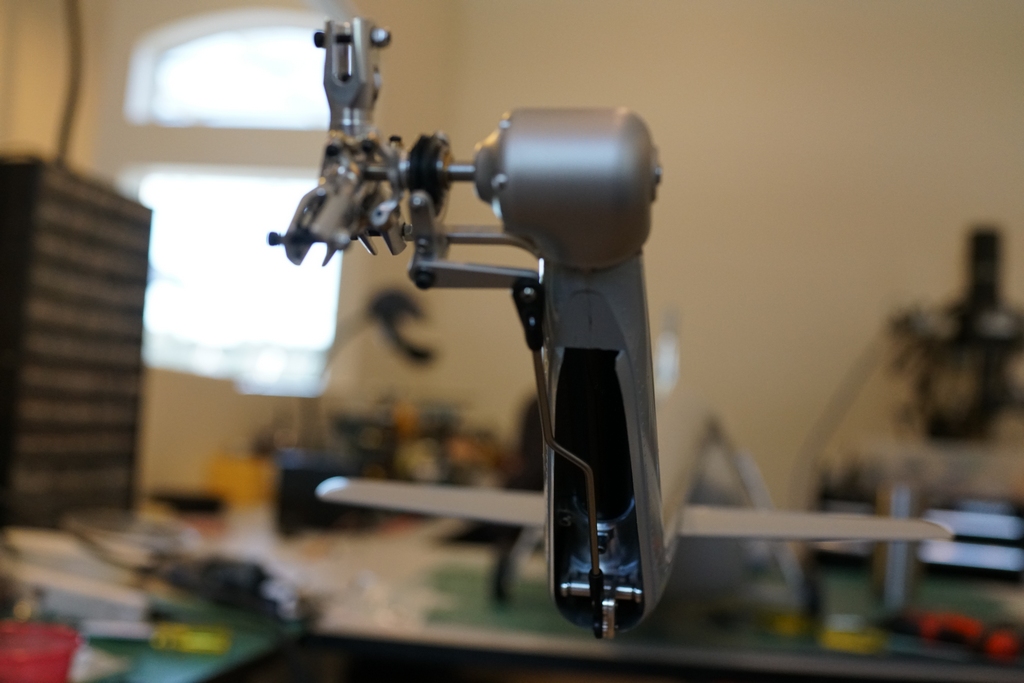 Now the servo can be slid on the tail tube and located over the hole I drilled, clamps tightened and a locking screw fitted.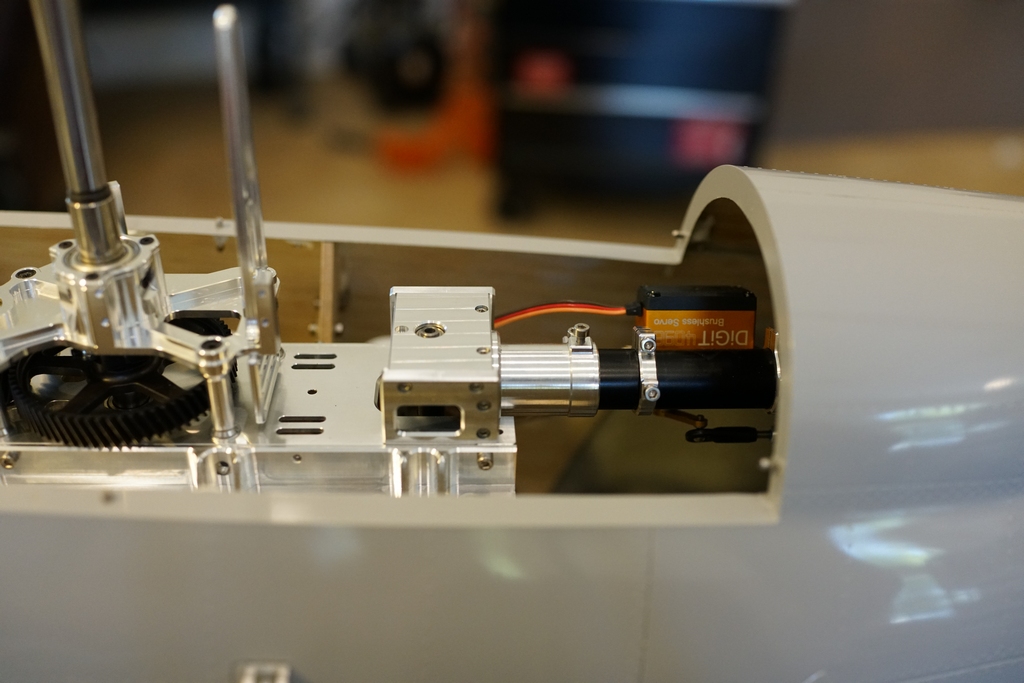 Now comes the really clever bit. The whole tail drive train is rigid but nothing is fixed down. The same clamp and locking screw arrangement is used on the mechanics and the tail tube, and the mechanics are bolted to the woodwork, or at least, they will be when I get the rest of the parts and I can finish the mechanics assembly. So now everything in the tail drive is rigid and wont move. I like it and it is that arrangement which made me discard the intermediate gear box and dog bone couplers which I was going to use.Now for a little educating. The tube is actually a torque tube. The inside piece is a drive shaft. For some reason we have been calling the drive shaft the torque tube and retaining the name tail boom on a pod and boom heli. Hence the above references to tail boom, the fiber glass piece of the helicopter tail, the tube, the torque tube fixed at each end and supporting the intermediate gear box and hence the tail rotor gear box, and the driveshafts, all the way down the middle, transmitting the rotating force. Here endeth the lesson
Peter Wales
http://scalehelicopters.org